Brief Overview of City:
Austin, the capital of Texas, and the fasting growing city in the U.S has developed into a beautiful and lively city. It's has an incredibly diverse makeup of college students, musicians, high tech engineers, and blue collar workers, and is home to some incredible barbecue and amazing live music. In this guide, you'll learn about all the best spots that give the city of Austin its unbeatable ambience. 
Best Areas/Neighborhoods:

Full of high rises, restaurants, and bars, Downtown Austin is the most lively area of entire city. Here you can grab a fantastic brunch in the morning, and a refreshing brew at night. What's great about this area of Austin's nightlife is that there is something for everyone. Whether you prefer to just chill and listen to some live music, laugh your heart out at comedy show, or get rowdy with the local frat stars on Sixth Street, Downtown has it all. So, head to Downtown to have a memorable night in Austin.
East Austin is gives off the vibes of what the city used to be – sleepy and laid back. Historically, it used to be a segregated part of town, however gentrification has transformed this neighborhood into a cluster of hipster dive bars, restaurants, and galleries. Come here to grab a bite to eat, sip on a few cocktails, and check out Austin's local art scene.
If you love to enjoy the local favorites when you travel then Cherrywood is for you. Cherrywood gives of this wonderful neighborly ambience that makes you feel right at home, and is home to some of Austin's food scene's finest. Enjoy navigating through this quaint neighborhood as you stuff yourself with some mouth-watering comfort food.
South Congress/Boulder Creek
Known for its eccentricity, SoCo is the perfect destination in Austin to wander the streets, while shopping in unconventional retail stores that you never knew you enjoyed. During the day, you'll find unique boutique stores, low-key art studios, and clear views of the Capitol. And, at night, you'll find hip bars and live bands, performing all the rock, country, and blues that one's heart could ever desire.
Food Highlights:
If you're looking for some of the best brisket in Austin, you've come to the right place. La Barbecue provides an authentic barbecue experience with a wait that is less than thirty minutes. The meat is extremely flavorful and rarely needs BBQ sauce, but the sauce also goes extremely well at this classic joint. The bread rolls aren't included, but these go very well with any order.
Ranked as one of the best barbecue option in Texas, Franklin's also provides an authentic barbecue experience paired with some of the best service around. Is it worth the wait? Of course. Bring some lawn chairs, get comfortable, and think about the best meat you will enjoy in less than an hour. The BBQ is absolutely incredible and the sausage is house made. While the wait is 2-4 hours on average,  I would say it is well worth the wait!
I would highly recommend Jack Allen's for its Sunday brunch buffet. Make reservations of 11am, so that you'll beat the 12pm crowd. The brunch buffet includes shrimp salad, tomato basil pie, jalapeno sausage, grits, hummingbird muffins, and much more. For $18, I would say this is one of the best deals you're ever going to get.
For some of the best pork in the state, this is one of ideal restaurant spots. The pork spare ribs have an appropriate amount of seasoning to supplement the juicy meat. The sweet tea goes well with whatever you order and the macaroni and cheese supplements any entree very well. Try going before the dinner rush, and you'll be golden.
With over 1000 reviews averaging 4.5 stars on Yelp, Micklethwait Craft Meats has some of the best meat around. The brisket is phenomenal and the beet salad side was great with anything. Be aware that there is only outdoor seating that is under shade (it can get a little hot in Texas).
As one of the only vegetarian cafes in Austin, Bouldin Creek Cafe is the ideal choice for someone who wants to get away from Austin's traditional foods. Bouldin Creek has amazing vegan food at a great price. The veggie sandwich is delicious and the hummus is to die for.
I would also recommend their version of the eggs benedict.
Tacodeli is my go-to spot for tacos when I'm in Austin. Because the place is extremely small, it can get pretty packed in Tacodeli, so be ready to wait. The food is absolutely delicious the the queso is something that separates this taco spot with others.
Nightlife Options: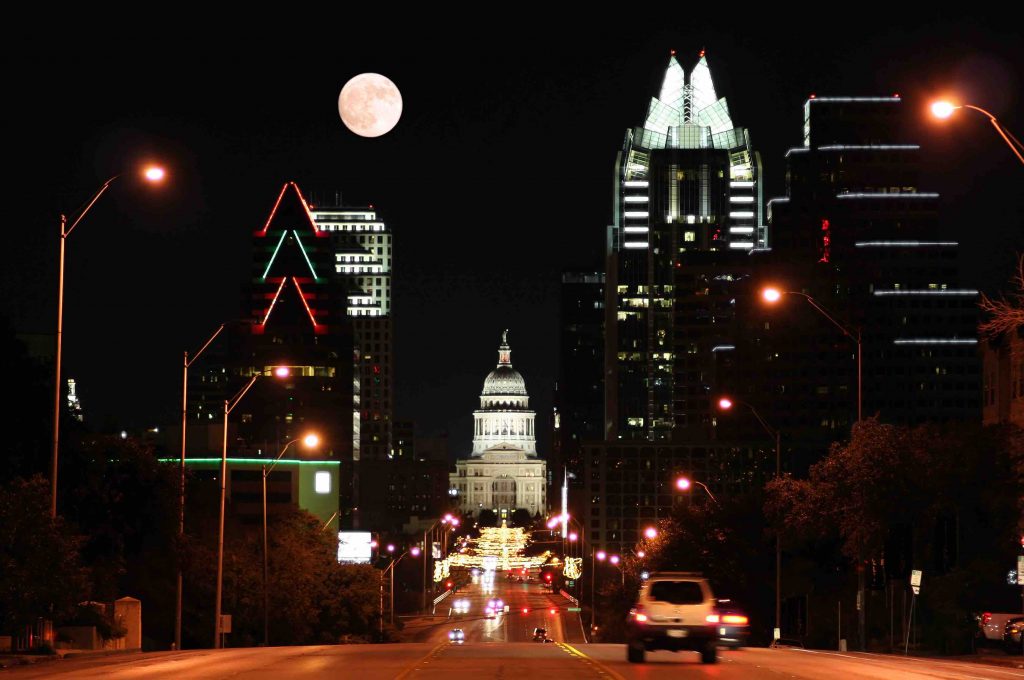 First, we can't mention incredible nightlife without 6th street, the iconic street and entertainment district in Austin, Texas. 6th street has some of the best bars and clubs in Austin and is populated by students from surrounding schools, most of which are from the University of Texas at Austin. If you're looking for a good time, you can't go wrong with 6th street.
As one of the coolest bars I have ever been to, The White Horse provides a "classic bar" environment with large pool tables, whiskey on tap, and a small dance floor. The crowd is usually pretty mixed from millennials to bikers, but one thing is certain for sure- the drinks are dirt cheap, and absolutely fantastic.
Plush = Underground dance music. It has a grungy, mysterious sort of feel that makes it kind of nice compared to the traditional club. You'll hear some hip-hop at Plush paired with some unique funky music. Everyone in Plush is extremely friendly, from the bartenders to the bouncers. Cheap drinks + unique music = a great time.
This is probably one of the coolest bars I've been to! The drinks are very reasonably priced, and 313 pizza is right next door. The service is pleasant, and they have a great selection of craft beer.
Looking to avoid noisy places in Austin? Check out the nosiest neighborhoods in Austin to make sure you can have your ideal experience!
Transportation:
The Capital Metro, by far, is the easiest way to get around Downtown and the rest of Austin for the cheapest price. Each ride starts at $1.25 and day passes can be just $2.50. Buying tickets is relatively easy- most grocery stores have tickets, and you can always get a ticket online.
The MetroRail is a 26 mile line that offers bus services as well. MetroRail also runs late on Friday and Saturday nights, and the last train leaves downtown at 1:45am on Friday and 2:30am on Saturday.
Bikes are a great way to get around while exploring Austin. There are several bike rental shops around Austin. Click here for a detailed map for bike routes!