The 10 Most Beautiful Neighborhoods in America
There are many beautiful cities throughout the U.S., and within those cities are beautiful neighborhoods. You may, or may not, agree with our selections. After all, beauty is in the eye of the beholder. Instead of ranking them, we are starting in the northeast and taking you on a trip around the country.
Beacon Hill
Boston, Massachusetts       
Beacon Hill is one of the oldest neighborhoods in the U.S. It sits behind the Massachusetts State House with its famous golden dome that casts its glow upon every brick and every cobblestone that is steeped in the history of our country. Walk down the cobblestone streets along brick sidewalks with gaslights that flicker as the evening descends. Stroll past the Federal, Greek Revival and Victorian architecture, wrought-iron fences entwined with wisteria and ivy-covered brick facades. Enjoy the embellishments that give distinct personalities to the homes, such as colorful stoops adorned with flower pots, elaborate front doors with solidly crafted and unique brass knockers, tall narrow windows, flower boxes, and elegant gardens tucked behind the homes.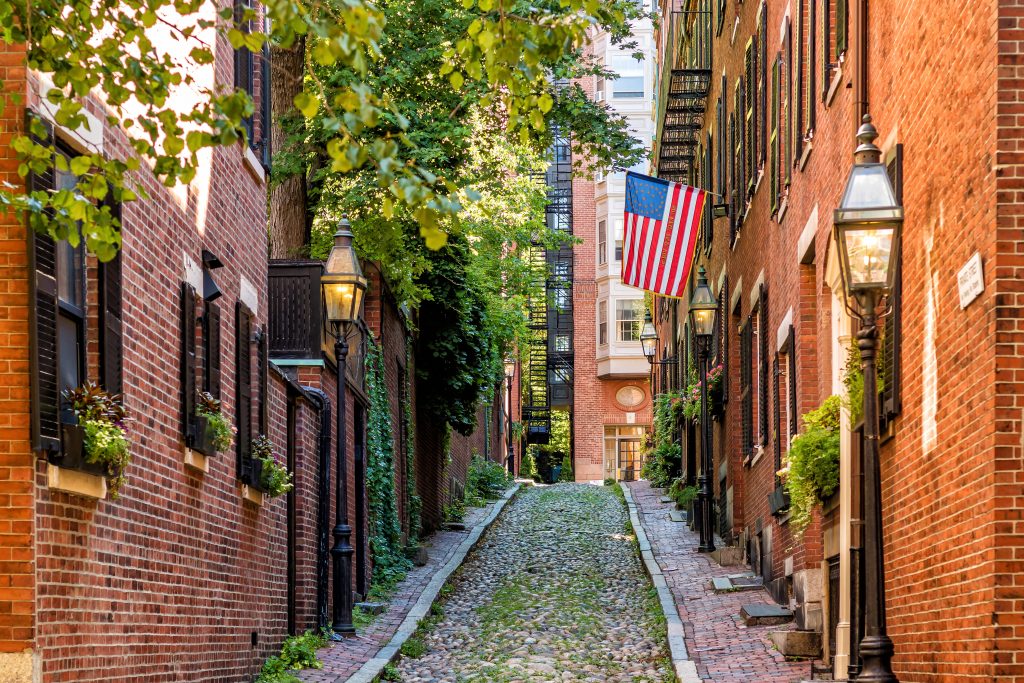 Brooklyn Heights                                         
New York City, New York
Picture charming tree-lined streets, rows of stunning centuries-old brownstones (more than 600 houses were built before the Civil War), wood-frame houses, Federal brick homes, carriage houses, and regal prewar condos, as well as an abundance of exquisitely built houses of worship. Brooklyn Heights is a seldom-seen mix of architecture and history. Follow the cobblestoned Jorlemon Street lined with Greek Revival row houses to the East River. Continue onto the tree-lined promenade that overlooks the New York Harbor for unparalleled views of the Manhattan skyline, Lower Manhattan, the Statue of Liberty and the impressive Brooklyn Bridge that connects the gentle Brooklyn Heights with the intense New York City.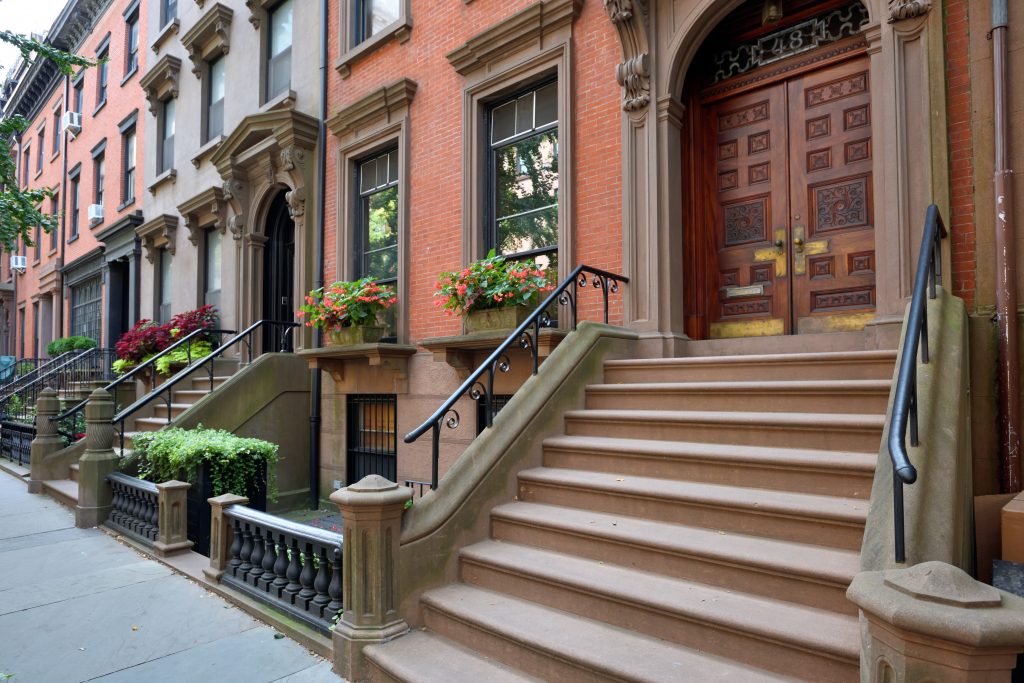 5 AFFORDABLE NEIGHBORHOODS IN NEW YORK CITY FOR IVESTMENT PROPERTY
Charles Village
Baltimore, Maryland
Charles Village combines an urban grid street pattern and traditional Baltimore-style row houses with the landscaped front lawns and greenery-lined boulevards found in the suburbs. Most of the houses were built in 1895-1915 and, therefore, feature an eclectic array of architectural elements, such as pyramidal and conical roofs, Dutch gables, small balconies and stained glass windows. In 1998, Charles Village residents, in a wonderful display of community cooperation, joined together to spruce up the neighborhood. They painted the facades and porches of the Victorian row houses, coordinating the many festive colors used. Within five years, 100 houses had been painted. The "painted ladies" are now a "must-see" in north-central Baltimore. Each house has its own personality, all remain meticulously maintained with beautifully landscaped front yards.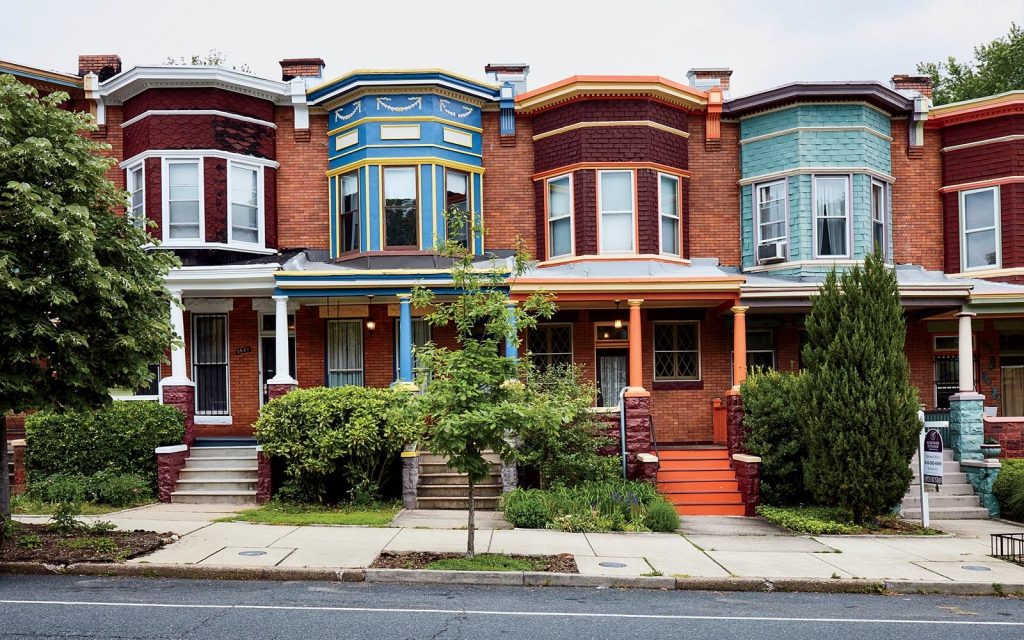 Historic District
Savannah, Georgia
Savannah's Historic District is the most beautiful neighborhood in a city ranked as one of the most beautiful in the world. Stroll through 22 manicured park squares, some with monuments, some with fountains, all surrounded by cobblestone streets and stunning mansions that are superb examples of Georgian, Greek Revival, Gothic, Gothic Revival and Beaux-Arts styles of architecture. A striking contrast is created by the 300-year-old homes built by seafaring merchants influenced by their travels to the West Indies, particularly in having porches face south to catch the sea breeze. The stroll is made all the more charming by block after block of live oaks and their "curtains" of Spanish moss, towering palm trees and lush flower gardens.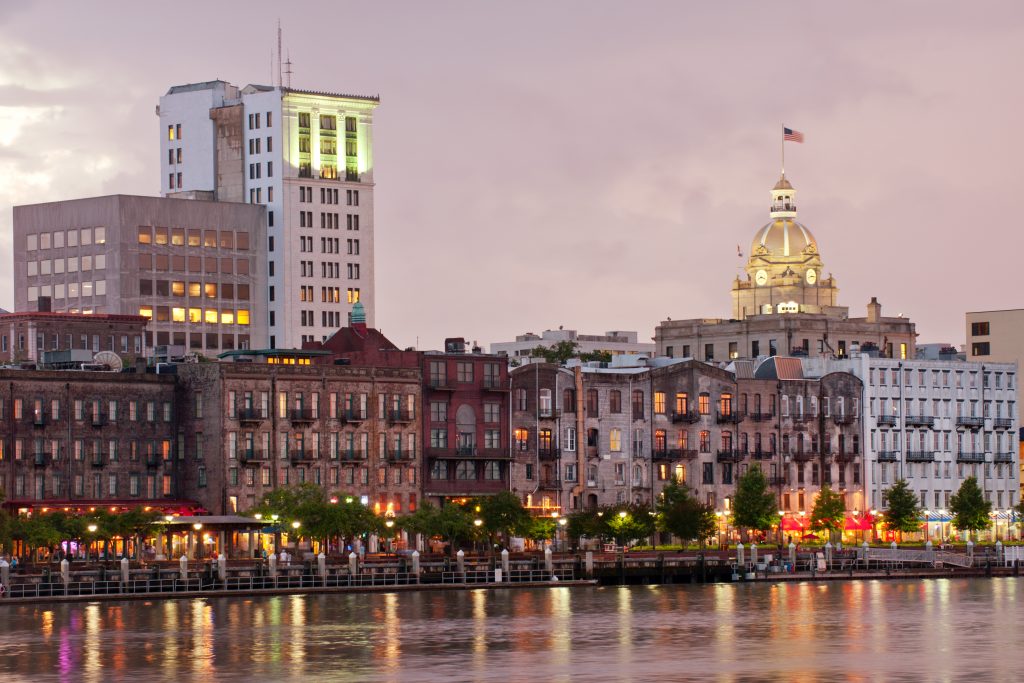 Downtown St. Augustine
St. Augustine, Florida                                 
 St. Augustine is our nation's first city, so it follows that Downtown St. Augustine is defined by its architecture and its melange of cultures: Spanish, Native-American, English, African-American, Caribbean, Southern and just a dash of French. The building facades represent the height of Spanish Colonial and Spanish Renaissance Revival architecture, as well as early European design, Florida bungalow-style houses, and Gilded Age extravagance. Explore the cobblestone streets and narrow brick alleyways. Seek out the hidden courtyards and gardens. Take note of the second-story overhanging balconies and ceiling fans on porches. Visit Flagler College for the Louis Comfort-Tiffany stained glass and the Castillo de San Marcos, a 17th-century Spanish stone fortress with views of the St. Augustine Inlet. Climb the steps of the lighthouse for a panoramic view of town and harbor and don't miss the chance to drink from the Fountain of Youth.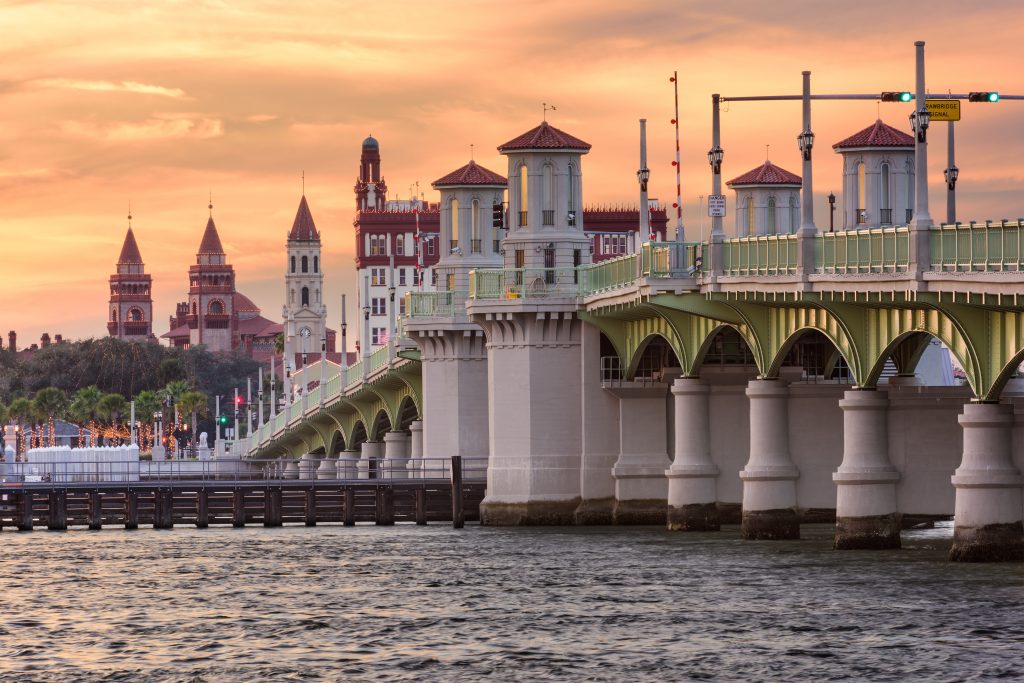 Garden District
New Orleans, Louisiana
Explore the South's antebellum past as you meander along brick-lined sidewalks past gardens replete with hibiscuses, crepe myrtles, angel trumpets and bougainvillea and beneath the world-famous canopy of live oak trees drizzled with Spanish moss. Is there anyone who would not long for a cool mint julep on a secluded veranda? The Garden District is today treasured as much for its architecture, the stately mansions, early 19th century architecture  next to mid-century Greek Revival and Italianate next to the gingerbread-adorned Queen Anne Victorians. The streets charmingly are named after the nine muses of Greek mythology.
Perhaps a cemetery does not fit in with the general idea of "beautiful neighborhood," but the Lafayette Cemetery, 180 years old, is a spectacular sight with the above-ground vaults, finely aged tombs and intricately wrought angel statuary among magnolia trees and fragrant flowers.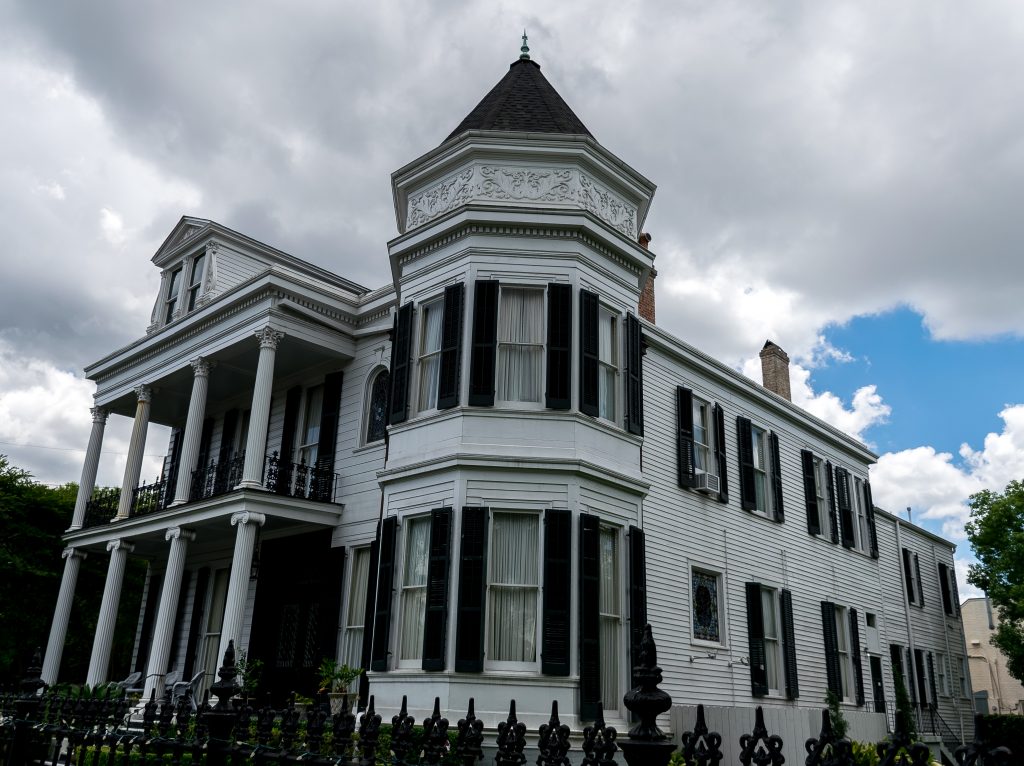 Washington Park
Denver, Colorado
Washington Park looks like it fell out of a Norman Rockwell painting. The homes range from historic brick bungalows from as far back to the 1920s to multimillion-dollar contemporary mansions built on scrape-offs (demolished older homes) along tree-lined streets with lush landscaping. The biggest draw to the area is Washington Park itself. "Wash Park," as the locals call it, is 55 acres that include two lakes, two flower gardens (one a replica of George Washington's garden at Mount Vernon) and vast expanses of carpet-soft grass.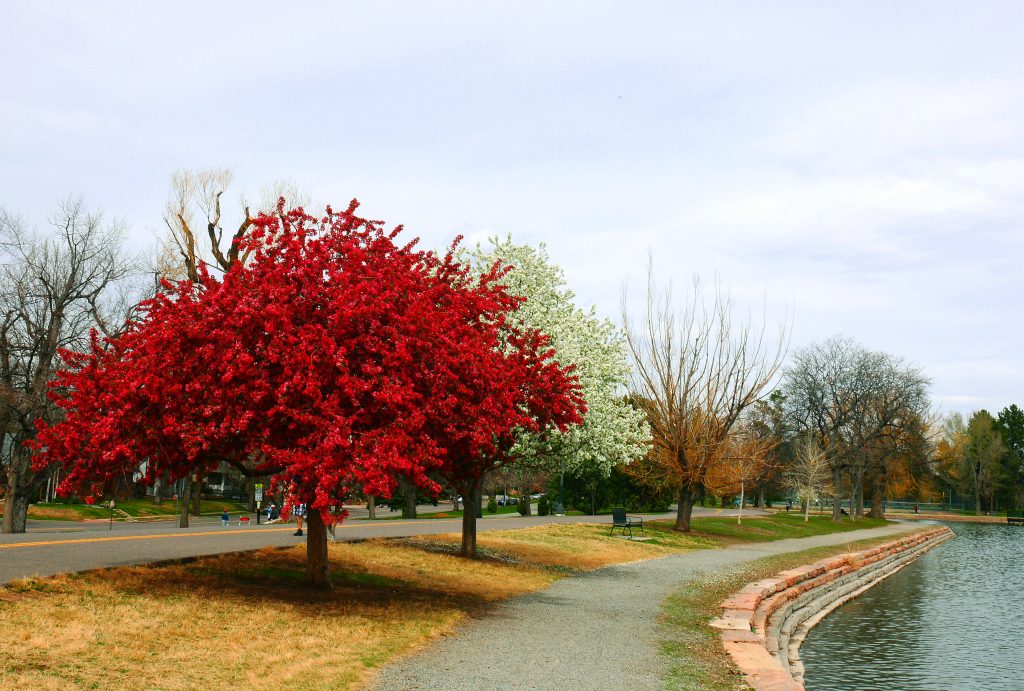 Sea Cliff
San Francisco, California                       
Sea Cliff offers an incomparable view of the Golden Gate Bridge and San Francisco Bay as an eclectic assortment of grand estates framed by palm trees perch on the cliffs. Some of the million-dollar homes have ocean views, others bay views. The houses have a Spanish Colonial Revival aspect to them (orange terracotta roofs and pastel stucco walls) with a French chateau here and a Georgian manor there. Part of the fun is seeing the exquisite, immaculately landscaped homes juxtaposed with what might be called "upscale tacky."
Follow Lands End, a landscaped trail provides access to the shore and spectacular panoramic views.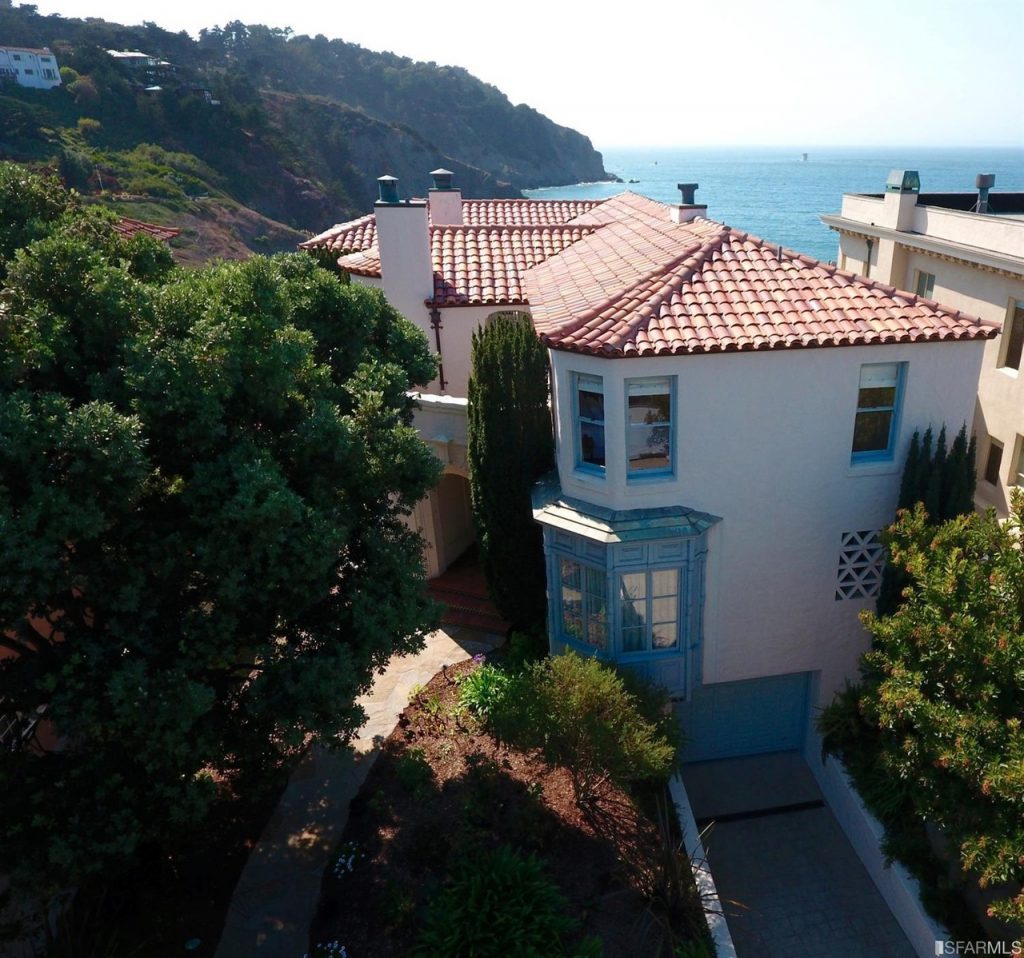 Hyde Park
Chicago, Illinois
Hyde Park was a quiet, quaint neighborhood prior to the magnificent 1893 World's Columbian Exposition (better known as Chicago's World's Fair). Because of the Fair's phenomenal success, Hyde Park became a much sought-after address. It is bordered by Chicago's two most significant (and picturesque) cultural institutions, the Victorian Gothic University of Chicago and the Neoclassic Museum of Science and Industry (formerly the Palace of Fine Arts, the only remaining structure from the Fair). Amid the many awe-inspiring homes built in various architectural styles, the mansions, villas, workers' cottages, row houses, stands an American masterpiece, Frank Lloyd Wright's Robie House, the finest example ever of Prairie School architecture.
Nichols Park adds 10+ acres of natural beauty to the neighborhood with community vegetable gardens, a community flower garden and a sprawling meadow filled with wildflowers.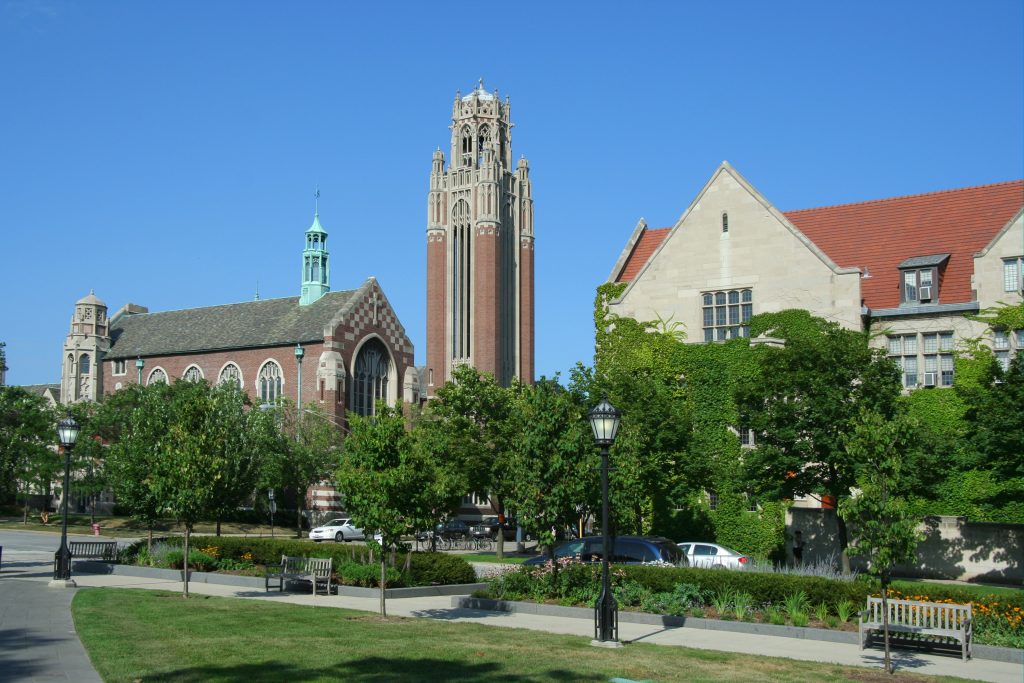 North Meridian Street 9
Indianapolis, Indiana
The North end of Meridian Street became home to the elite of Indianapolis, the merchants, industrialists and professionals, between World War I and World War II. The area with its variety of stately homes has been called an "encyclopedia of American architecture," because leading architects designed many of the homes in Tudor Revival, Jacobean, Colonial Revival, Neo-Classical, Classical, French Norman Revival, Italian Renaissance, and Prairie styles. Often the beauty is in the details. Look for stone quoin work, a two-story bay window, a massive front chimney, a circular two-story tower and a terra-cotta tile roof, arched casement doors, a small central portico, and triple Corinthian columns. North Meridian Street is a veritable feast for the eyes and for the architecturally inclined mind.