While New York City and Airbnb are having a legal fight, that's not stopping people from around the globe from visiting the Capital of the World.
Airbnb apartments are still popular in New York. There are thousands of places to choose from in the city where more than 20 million people live. In this article, we're going to present some of the best Airbnb. Follow up and see:
Before we go into the details, let's learn something new about New York!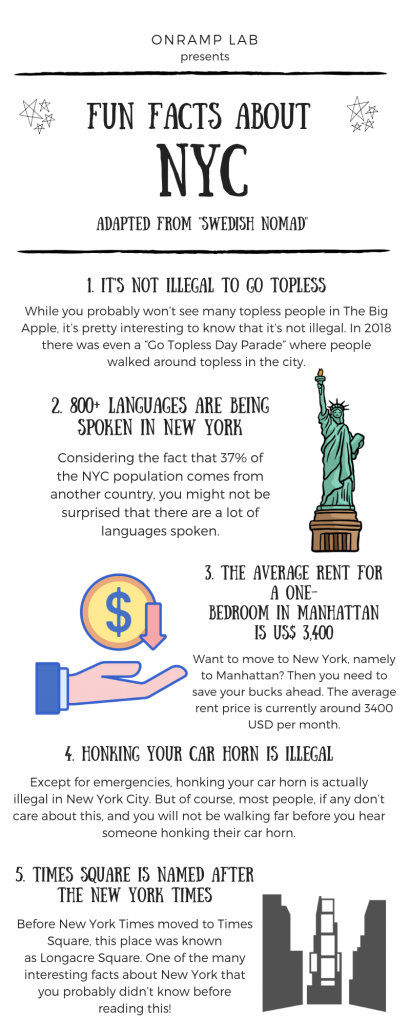 1. Best Location in Manhattan Studio
Knowing how little space there is in Manhattan, there's real luck in finding a studio to stay in. No wonder this studio is one of the most in-demand airbnbs in New York! This particular one, owned by the superhost Regina Kira, is in the middle of the happenings. It has everything you need for a longer stay. Kitchen, washing machine, dryer, etc. There's also free Wi-Fi, TV, but the most important is that is close to all the important landmarks.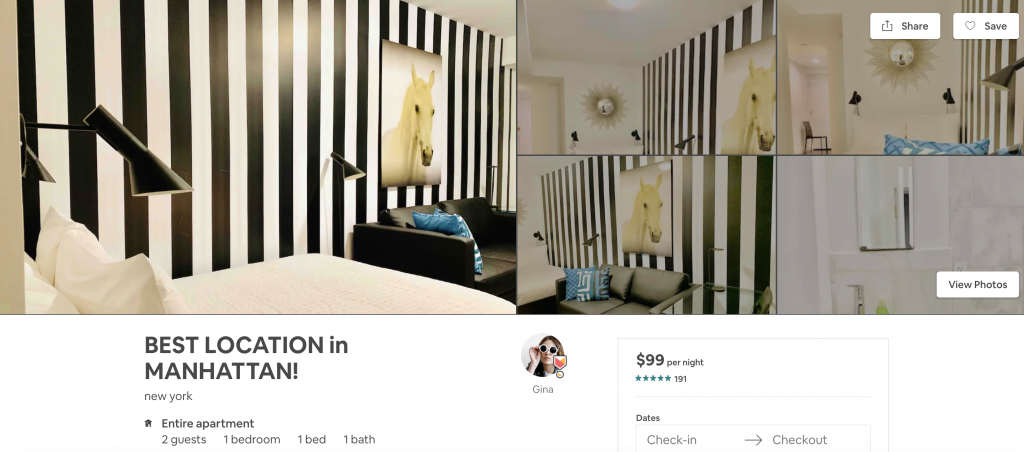 The place is a cute modern studio with a living area, toilet, kitchen, and a gallery where a queen size bed is located. Probably one of the best places in Manhattan.
2. Amazingly Located One Bedroom, Near Central Park
Another Manhattan located place that offers walking to some of the most popular sites in New York. Just a few blocks down Central Park, and 15 minutes from Times Square. If you've been to New York, you know how close 15-minute walking actually is.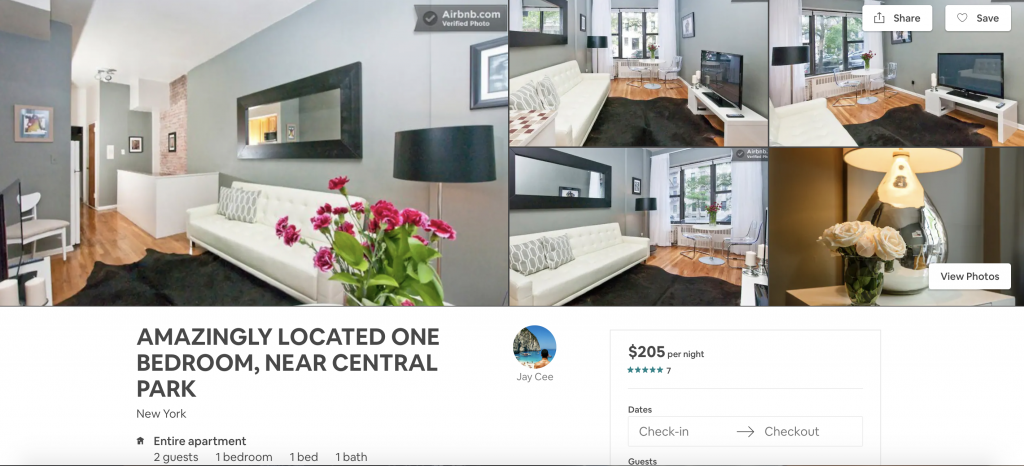 The apartment has one bedroom but is completely equipped with everything you might need during your stay. Wi-Fi, TV, kitchen, coffee machine, microwave, air conditioning, etc. It's a lovely apartment that's best suitable for couples.
3. The Manhattan Oasis
A cool neighborhood needs a cool apartment, and that's exactly what this place is – cool. Right in the heart of Manhattan, this apartment is designed with comfort–and cuddling–in mind. The location is amazing, it's close to the subway with easy transportation to other parts of the city. This apartment could be one of the most in-demand airbnbs in the city for the DIY movie theater alone!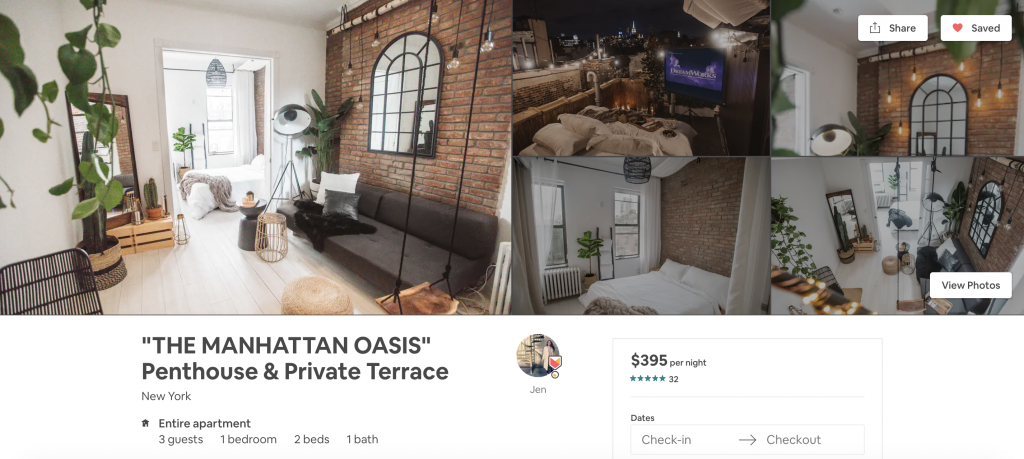 When it comes to amenities inside, it's a 1 bedroom apartment with plenty of room for 3 guests. It's best for couples or traveling friends. It has a kitchen, Wi-FI, a cool movie alcove on the terrace, and all other amenities needed for your stay.
4. Clean Room, Central Location in Manhattan
If you're looking for a sparkling clean room that's located in the middle of Manhattan, this is the place for you. The owner, Tim, is a superhost and keeps the place spotless. The location is between  Midtown and Downtown, so be sure everything will be close enough. The rooftop has a view over the East Village and the Lower East Side.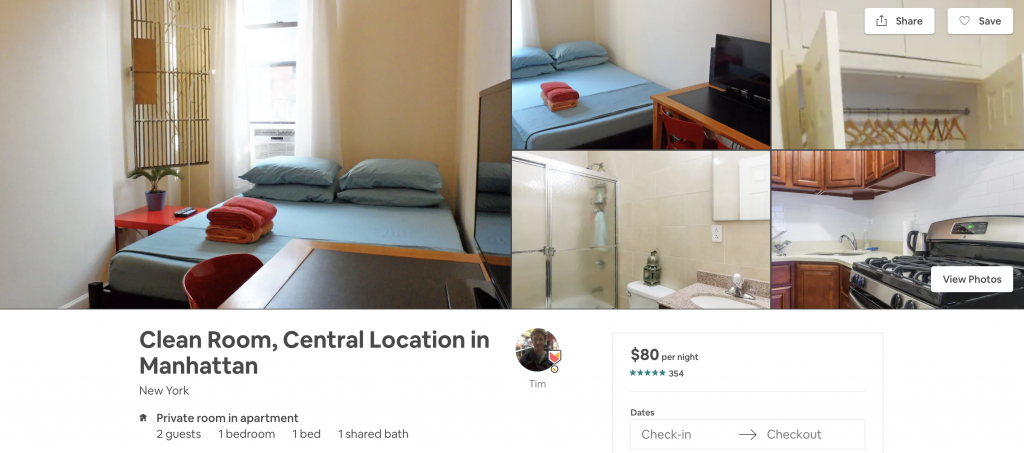 The room has one queen size bed, TV, Wi-FI, heating, and it also offers free off-premises parking which is very important if you're driving.
5. Beautiful Lower East Side 1 Bedroom Loft
Located in the heart of historic Lower East Side, this apartment is a quintessential NYC loft. Equipped for stays under 30 days, this loft has all of the amenities you could ever need, including a washer and dryer! Drink your coffee next to the wall of windows and explore your authentic New York experience.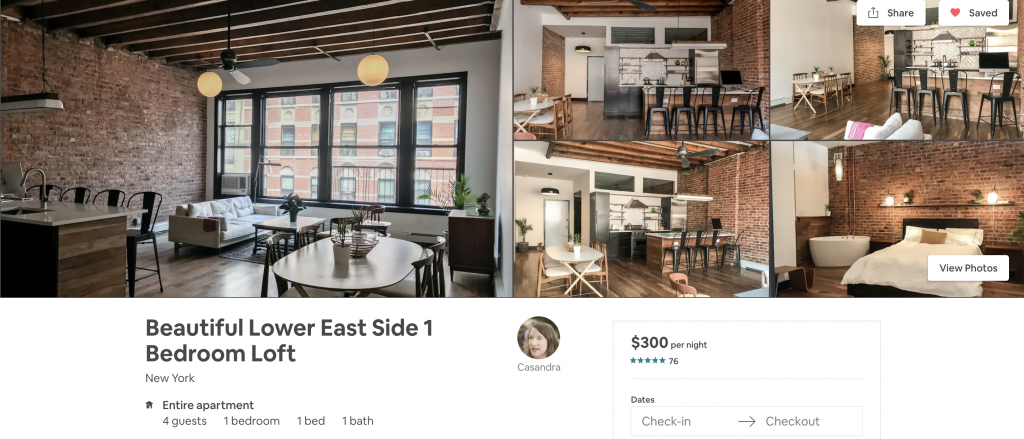 This 5-star apartment is great for solo travelers, business trips, and couples who are looking to have a little light in their lives–and their apartments.
6. Sunny, modern room in East Village!
This room in the East village offers gorgeous view of Downtown Manhattan. And to top it off, superhost Reka has recommendations for anything you might need to perfect your stay. Enjoy a glass of wine on the terrace overlooking the city and be happy that you're staying in one of the most in-demand airbnbs in New York.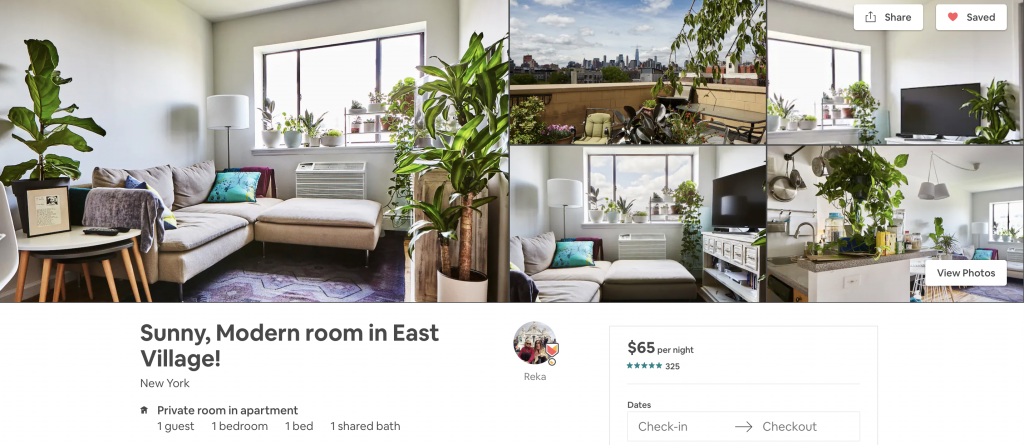 The interior and amenities are amazing. All of the amenities you'll need during your stay (as well as all of the plants) are right in the building, including an elevator!
7. Magic Manhattan with Rooftop
A very interesting apartment on the Lower East Side. The interior is made with style and you can go to the rooftop for some perfect views over Manhattan. Some parts of the apartment are not in the best condition but the affordable price makes up for this part.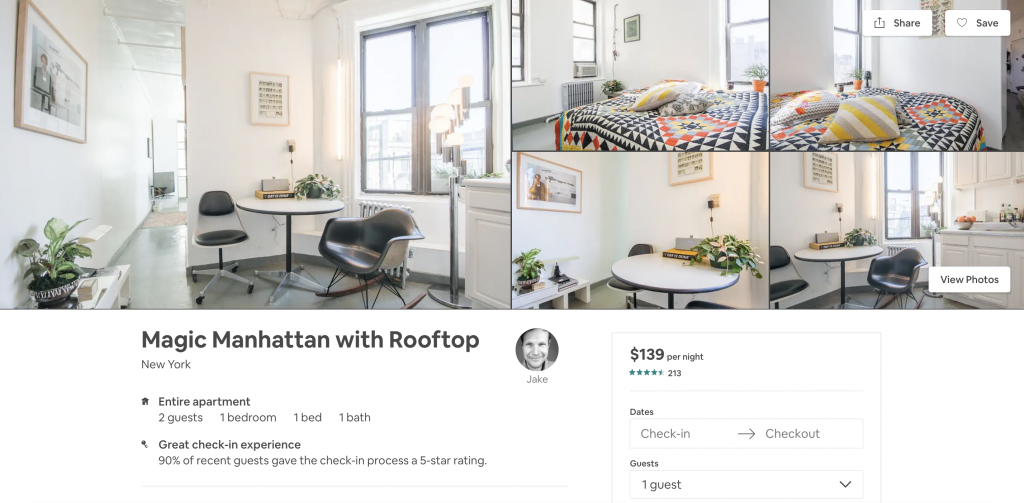 You can enjoy a beautiful large bedroom, TV, free Wi-Fi, fully equipped kitchen, an espresso machine, and an air conditioner.
8. SoHo 2 Bedroom Private Terrace
Patricia is a super host and is offering this condominium with 2 bathrooms, 2 bedrooms, and 3 beds. Her place in SoHo is so popular that it ranks among the best in New York. It's perfectly clean and inside you'll feel like you're in a movie. Pictures on the walls, modern furniture that goes amazingly well with the huge windows overlooking the neighborhood. The best part – a private terrace with amenities for your enjoyment. No wonder it's one of the most in-demand airbnbs in New York!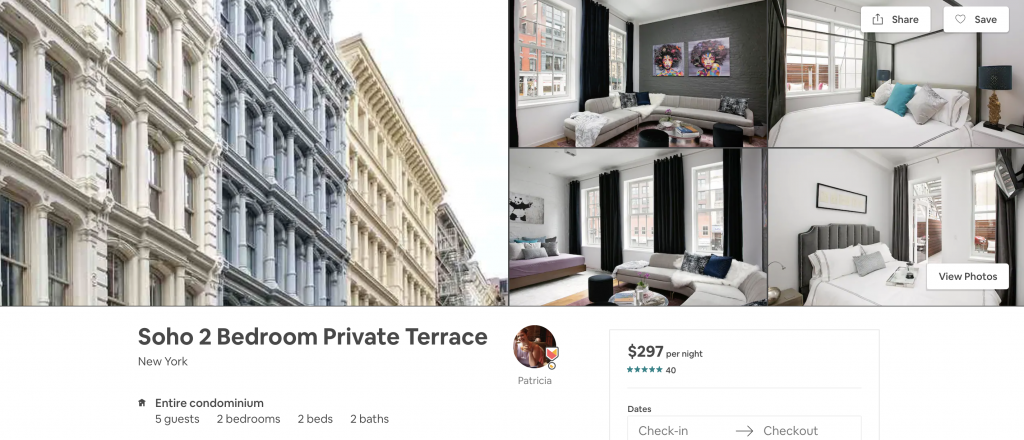 The completely new amenities inside are free for use. An espresso machine, outdoor barbeque, TV, free Wi-Fi, bathtub, washer, dryer, and many more.
9. Tasteful Room in Charming Two Bedroom Apartment
A mix of modern and traditional is what represents this apartment of Yoni, the owner. Located in historic Harlem, it is a quiet and peaceful place. The rating is 5 out of 5 for everything you might be worried about. It's sparkling clean, the owner is very friendly and responsive, and the apartment is in very good condition.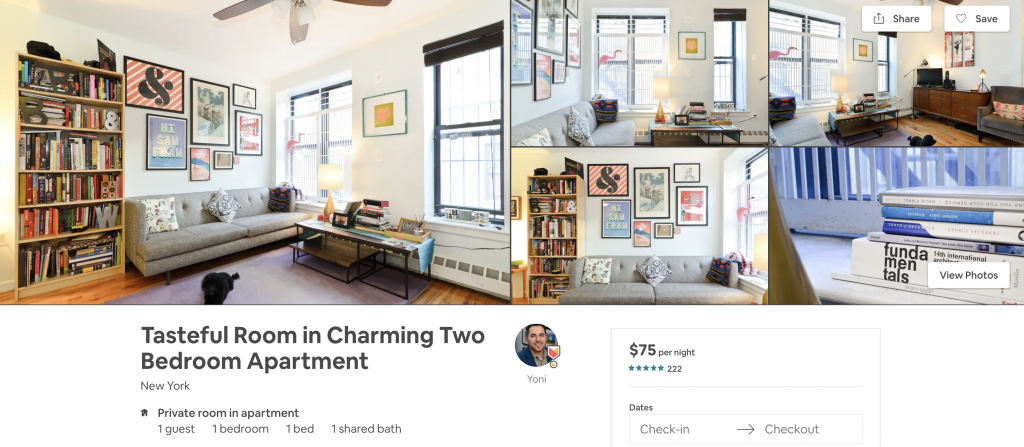 When it comes to the location, it's just a block away from the subway, so it is just 15 minutes away from Downtown.
10. Upscale Sun-Soaked Luxury apartment in Brooklyn
Charlie's Brooklyn apartment is something that will be a great experience for you if you decide to visit. The rating speaks for itself, and the look of the place too. A duplex that's perfectly positioned to be bathed in sun all day long. Completely new amenities and furnished to perfection.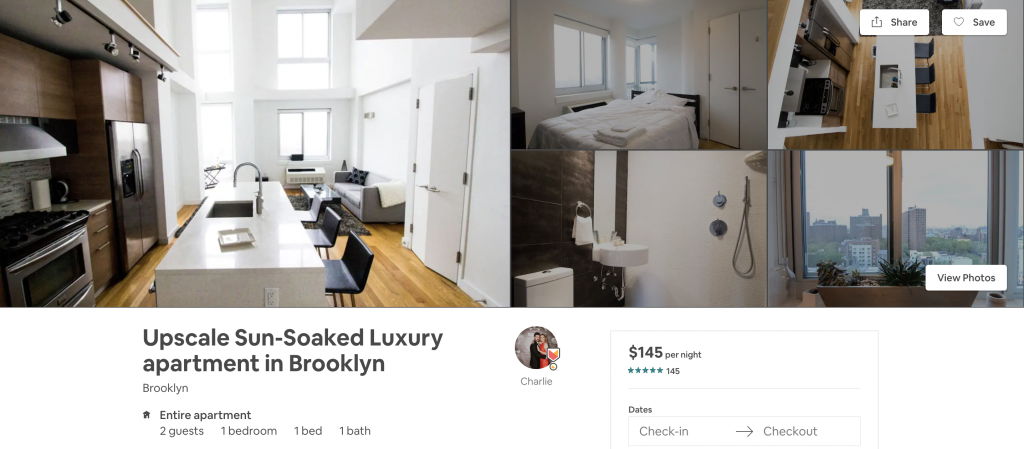 Guests have access to the building facilities, which are amazing. Billiards, Ping-pong table, gym, garden, and a view that is simply breathtaking. Definitely one of the best places in Brooklyn, if not New York.
We hope you've enjoyed our list of the most in-demand airbnbs in New York! Click here to plan more of your trip to the Big Apple!