Overview of the State:
Illinois, the Prairie State, is a prominent Midwestern state. It is located along Lake Michigan and shares a border with Wisconsin, Iowa, Missouri, Kentucky, and Indiana. This is the sixth most populous state in the United States with a number of small industrial cities along with farmland, forests, and some large cities, the most prominent of which is Chicago.
Many areas of Illinois have a strong economy, and there are a number of places in the state where it is still very affordable to live. The state was built through the transportation of commercial goods along the Mississippi River and Lake Michigan. Much of this happened through Chicago.
The capital of Illinois is Springfield, but it is just one of many cities in the state that have a lot of significance. The most populated city, and some would say one of the most important cities, is Chicago, which was founded in the 1830s. It has always been a center for the culture of Illinois, as well as the economy of the state. Some of the other cities in Illinois include Rockford, Peoria, and Joliet.
Those who are going to be heading to Illinois as a new resident, or those who are just going to be traveling through the state to enjoy some of the sights and attractions, will find plenty to love.
Culture of Illinois
There is a saying that says Illinois is Chicago and Chicago is Illinois. This simply means that much of what people have come to associate with the culture of the state stems from Illinois. It is certainly not the only culture in the state, but the city does have quite a bit of sway over what people think of when they think of Illinois.
The city of Chicago is well-known for advancing, and even inventing, different types of performing arts. It is known for blues, hip hop, soul, gospel, jazz, and a wealth of other types of music and art. The city is a major center for theater, and it is known as the birthplace of modern improv comedy thanks to troupes such as The Second City.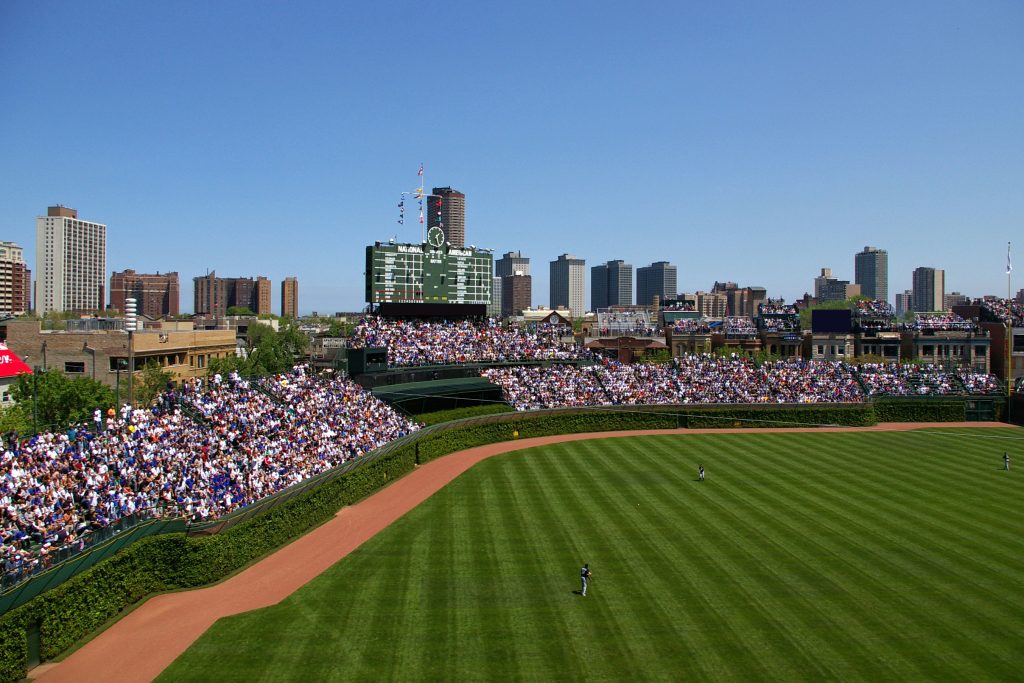 Sports are certainly a part of the culture of Illinois, as well. There are two MLB teams located in Chicago – the Cubs, who are part of the National League and the White Sox, who are a part of the American League. The Chicago Bears, The Bulls, the Blackhawks, and Chicago Fire are some of the other professional teams in the city. There are many minor league teams playing in cities all around the state, too, such as the Peoria Chiefs and the Kane County Cougars.
The state has a wealth of ancient sites from the Native people, along with a long and interesting history that involved French explorers, famous explorers Lewis & Clark, and it is even the home of many U.S. leaders, including Abraham Lincoln. All of these elements and so many more are responsible for making up the culture of this state.
Food Highlights Around the State of Illinois
When it comes to specialized food in Illinois, you are going to find that there are quite a few wonderful and tasty options. Let's look at some of the most famous Illinois-style foods.
Chicago Dog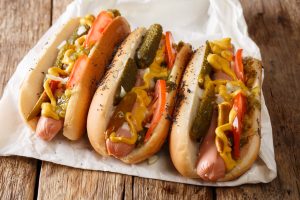 – First up, we have the famous Chicago Dog. This is a hot dog that is typically going to be steamed or boiled and served on a poppyseed bun. It will be topped using yellow mustard and chopped onions, along with – and here is where it really starts to stand out – sliced tomato, peppers, green sweet pickle relish, a dill pickle spear, and some celery salt for seasoning. One of the things that you are not going to find on a Chicago Dog is going to be ketchup.
Chicago Pizza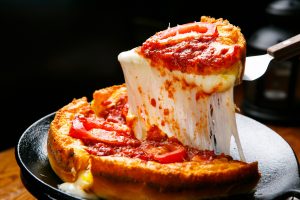 – Next, there is the Chicago pizza. This is a deep dish pizza that will have a tall outer crust and a lot of cheese and tomato sauce, along with whatever type of toppings you might enjoy. This is the true definition of a pizza pie!
Of course, there are plenty of other famous foods from Illinois, including the Italian beef sandwich, pizza puff, and the chicken Vesuvio. Next, let's look at a couple of restaurants in the Chicago area.
Lou Malnati's Pizzeria in Chicago, Illinois
To be honest, there are many places to find great pizza in Chicago. This is one of them. It is a popular eatery with plenty of fantastic reviews, which makes sense. After all, they have some great options on their menu for great prices. Their most notable items are their cheese and sausage deep dish pizzas.
Spacca Napoli in Chicago, Illinois
If you are in the mood for other types of Italian fare, you are also going to have quite a few choices available, including this restaurant. It offers up a nice and relatively casual atmosphere with fantastic food, such as their pastas and pizza.
Chicago's immigrant population isn't just limited to Italian-Americans, however. For some different fare, check out the city's many African, Asian and South American restaurants.
Serai
Serai is a Malaysian and Southeast Asian fusion restaurant, offering a variety of spicy noodle dishes, curries, Halal meats and more. For those who are tired of the same-old Chinese and Japanese flavors, this is a great alternative.
Tesfa Ethiopian Cuisine
If you are looking for bold, inspiring flavors served up home style, then look no further than Tesfa. Hearty beef, chicken and lamb dishes are slowly stewed with lentils and onions along with a mélange of spices. Then they are spooned over a soft, traditional Ethiopian bread called injera. Entrees are cheap and portions are large, ensuring everyone will leave with a full stomach.
Interested in learning how the neighborhoods of Chicago got their names? Click here to find out more info about their historic places.
Things to See and Do Across Illinois
One of the first things that you are going to notice about Illinois is that the list of things to do is endless. Those who want to get out and enjoy nature will find plenty to love in Illinois. The state shares a coast with Lake Michigan as well includes many beautiful rivers, forests and lakes. Moreover, the state is also home to some of the best museums in the United States, while Chicago hosts many diverse cultural centers.
Let's have a look at some of the options that you are going to want to consider.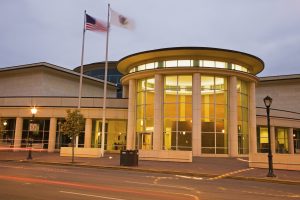 Abraham Lincoln Presidential Library and Museum
Visit a museum covering one of America's most famous presidents. While tours of the library are only available on the weekends, the museum is open every day. It offers an in-depth explanation of Lincoln's path from an Illinois cabin to the White House. Exhibits are interactive, with many learning opportunities for children and non-history buffs.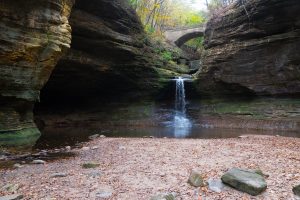 Starved Rock State Park
In Utica, this park is made primarily of sandstone eroded by the elements over time. The park includes many horseback riding, waterfalls and hiking trails throughout its forest. The most famous hiking trail is the Starved Rock trail from which the park takes its name and from where the entire valley is visible.
Chicago Museum of Science and Industry
Covering more than 14 acres, this is one of the largest science museums in the world. One of the coolest attractions include an actual German U-Boat from World War II. Visitors can board this and walk around inside as well as view an explorable 40-foot indoor tornado. In "You! The Experience," the museum offers the opportunity to learn about every aspect of the human body through fun, interactive exhibits. Tickets cost approximately $20.
Interested in learning more about the historic museum? Click here to read more about the fascinating exhibits at the Chicago Museum of Science and Industry.
Whiskey Acres Distilling Co.
For those who appreciate strong drinks, Whiskey Acres in DeKalb is a must-see. As one of the few Estate Distilleries in the U.S., Whiskey Acres grows its own core, wheat and rye before distillation. On weekend tours, visitors can see the whole process from start to finish. This includes looking at the distillation chambers and sampling the products, of course.