Why Seattle?
Seattle is a traveling destination for many people from around the world. Almost 40 million people visit Seattle annually. If you're about to stay in Seattle, here are some of the most demanded Airbnbs in town.
Before we go into the details, let's learn something new about Seattle.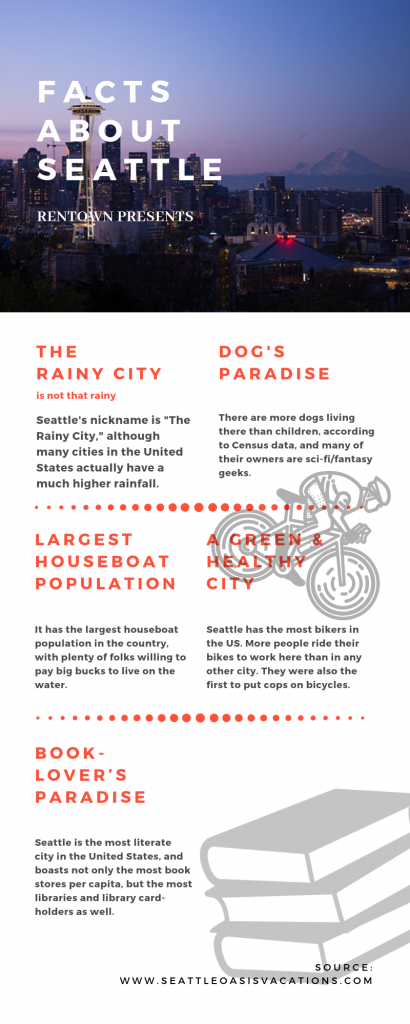 The Best Airbnbs in Seattle:
1. Seattle Mini Home with Hot Tub and Private Deck
The Seattle Mini Home is a small apartment in Ballard, Seattle. It is one of the best Airbnbs in Seattle and is popular for its owners Errin and Olivia who are fully committed to their guests, which is why the place constantly maintains five-star rating. The small house is located in the trendy part of the city – Ballard.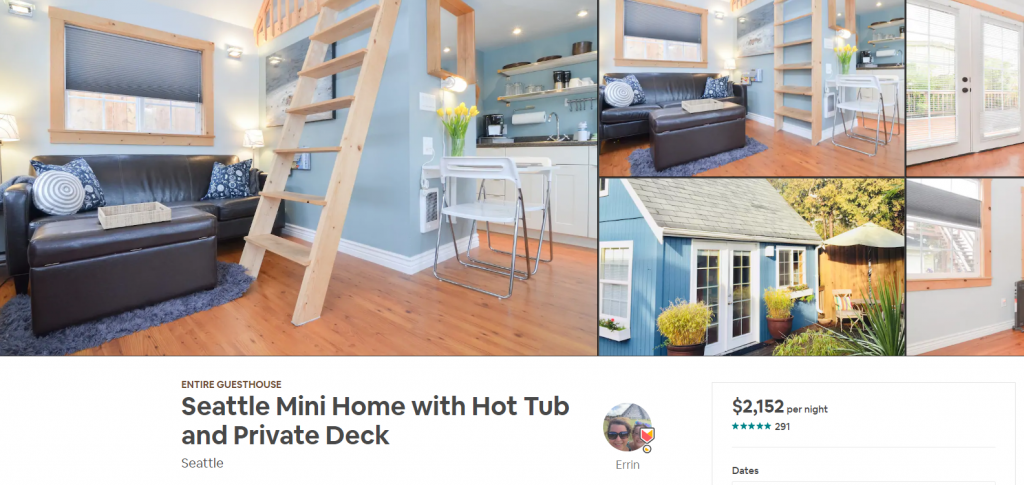 Equipped with a hot tub, Wi-Fi, mini kitchen, working desk, parking, and its own private entrance. There's also a cable TV with HBO channels so you can be sure you'll feel like you're staying in your own living room. There is no standard bedroom, but a loft bed is available.
2. Downtown next to Waterfront & Pike Place Market
Downtown Seattle is a home to this amazingly maintained apartment. The owners Rachel and Steve are doing their best to keep guests satisfied. This one bedroom apartment is just a block away from the Waterfront, two blocks down from Pike Place Market and the Space Needle is reachable by walking.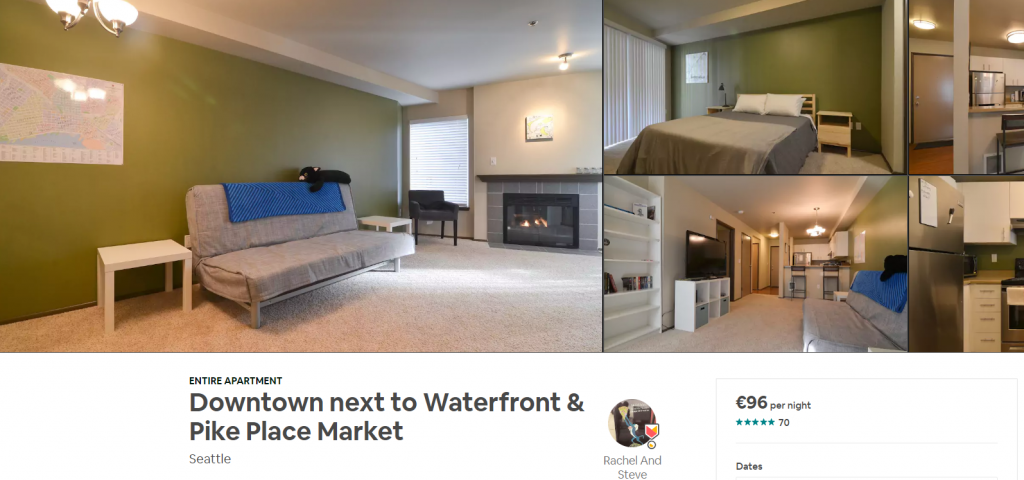 It features almost anything you might need. There's a Netflix supported TV, free internet, air-conditioning and fully equipped bed for a good night sleep. Being in the center of the city it's fairly easy to reach most of the important locations of Seattle.
3. Cozy Private Space North Seattle Private Parking
This guest suite is located in the north part of the city and is around 7 miles away from Downtown Seattle. The house has 2 bedrooms and is ideal for a family vacation in Seattle. The five out of five-star rating speaks for the cleanliness and the maintenance of the place.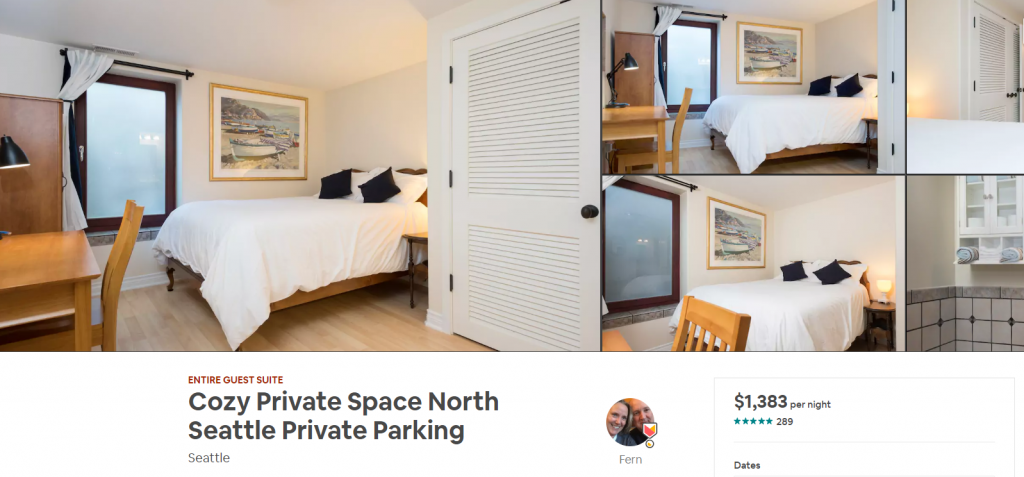 Since it is a little far away from the main happenings, you'll need a car. That's why the place has its own private parking place. There's also a TV with Hulu, Netflix, and other programs. Also a mini-fridge, and a microwave.
4. Simple Charm on Lake Union
An amazing house overlooking Lake Union – that's the shortest explanation for the house owned by Christi. The house has 1 bedroom and one bathroom, but the living area is simply adorable. Everything is made in a cute modern style and will make you feel like you're both staying at a modern hotel and at your grandma's home.
The house is equipped with TV and internet. The parking is free. There's a no-smoking policy on all areas in the place, so keep that in mind before you book this place if you're a smoker.
5. Downtown Waterfront View next to Pike Place Market
Alexa and Ryan's studio has a beautiful Waterfront view. What's even more important is that it is right next to Pike Place Market and other city location worth visiting. The place is five-star rated and is equipped with a fully functional kitchen ready to be used. It has one twin bed and a sofa bed which means it's perfect for couples or families with children.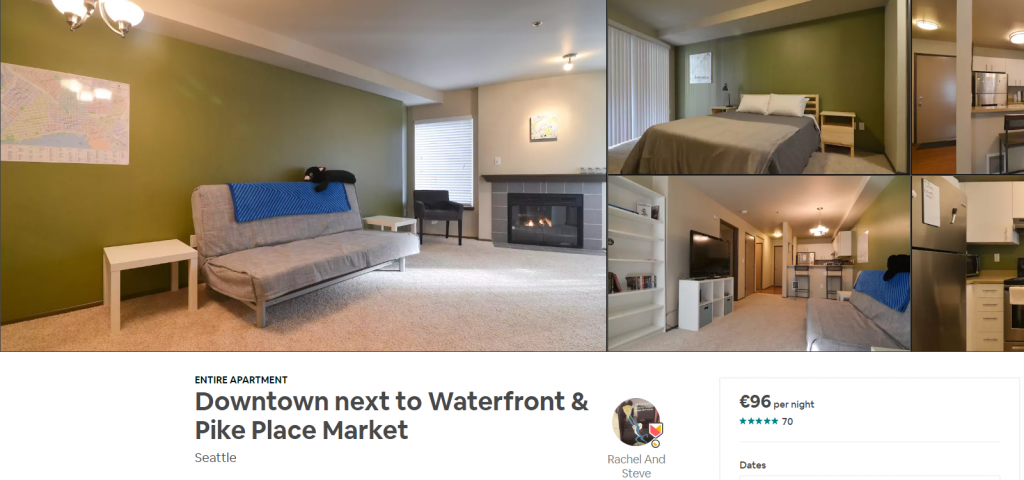 Netflix, air-conditioning, high-speed internet, dryer, and other amenities are available. It is 6 blocks away from the Convention Center and the Space Needle is also walkable distance from the apartment.
6. Seattle 2BR Home Near Downtown and Capitol Hill
This 2 bedroom home in Seattle also has 3 beds and is suitable for 6 people. It's a fully equipped house with 1.5 bathrooms and is close to some of the most important locations in the city like Capitol Hill and the Downtown area. The best part of the place is that is sparkling clean.
If you are a cleanliness freak this is the perfect place for you.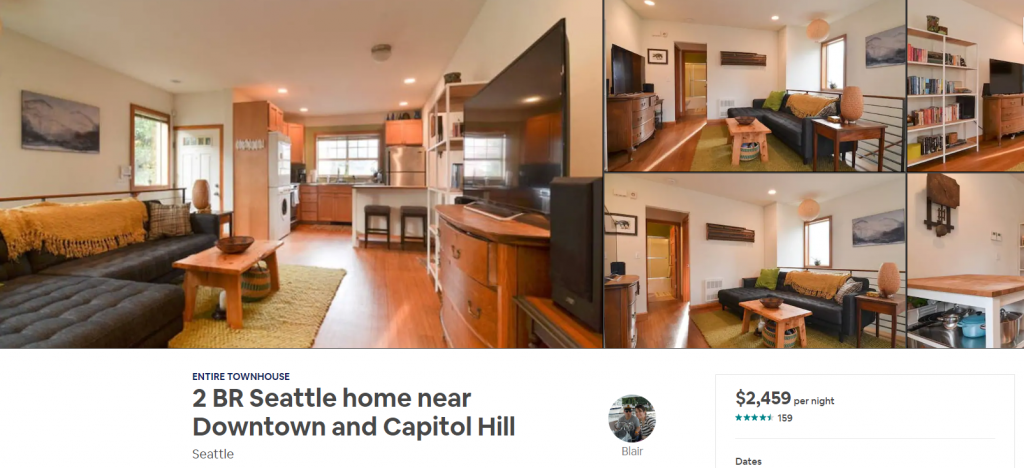 If you feel like you want to stay in, the living room has a big TV with an Xbox so you can enjoy some time inside.
7. Downtown – 5 mins walk to Pike Place!
One bedroom and one bed but in a place that's simply amazing. This modern-type apartment in Downtown Seattle has a fabulous view from the rooftop of the building where you can also have a barbeque. The apartment is completely equipped with everything you need.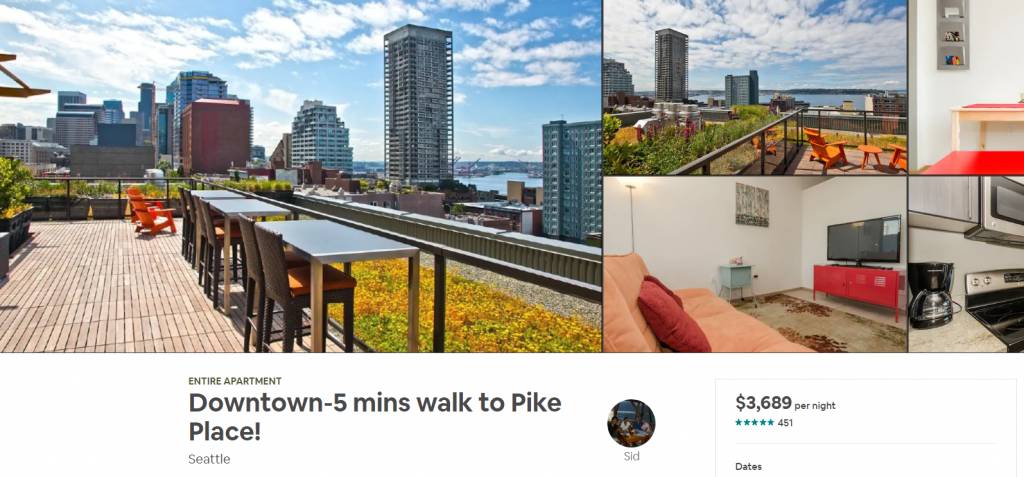 On top of everything, there's a free gym for you to use, books if you want to read, and a great view of the Downtown area. Is very clean and well maintained. There's even free parking, the place has no flaw.
8. Clean STYLISH studio, Historic Bldg. ROOFTOP VIEW
A beautifully renovated apartment in an old historic building on Capitol Hill. The building and the apartment itself are sparkling clean even though they were built a long time ago. The owner, Mathew, is a super host and maintains the place in a perfect condition for his guests.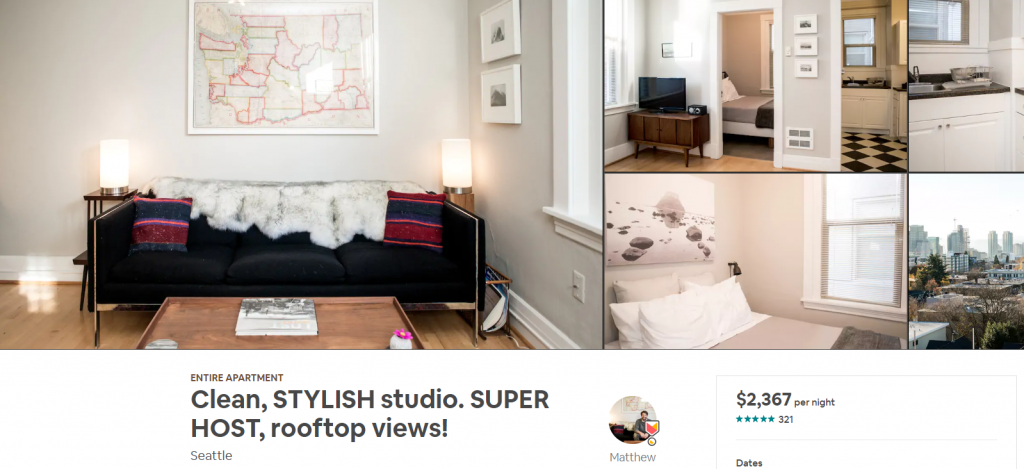 There's cable TV, Wi-Fi, and everything you need for a pleasant stay. Also, a beautiful view from the rooftop of the building is something you'll.
9. Walk to Restaurants from a Peaceful, Sunny Backyard Cottage
Sarah and Mark, the hosts, offer this whole house for their guests. It's situated in Junction, in south-west Seattle and is 15 minutes away from Downtown. The place is kept in a perfect condition and has a charm that simply makes it one of the best Airbnbs in Seattle.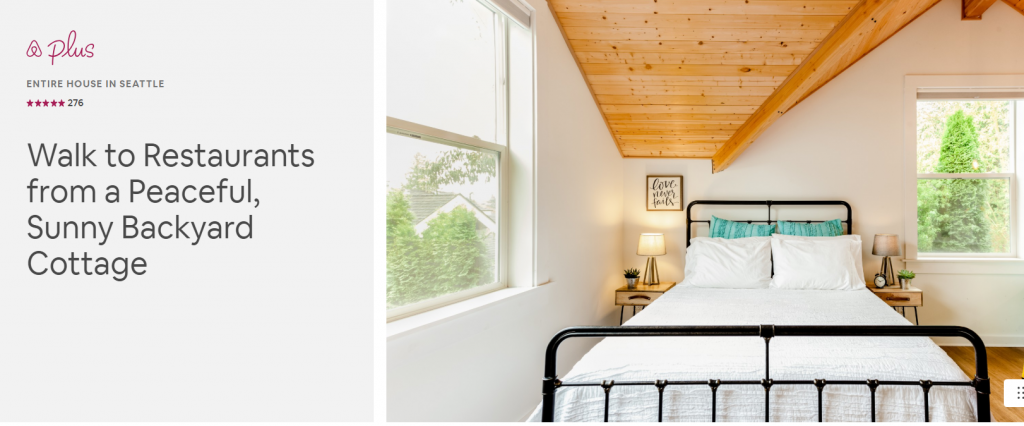 It has a full kitchen and bathroom, plus all the amenities you might need to feel like you're at home. Wi-Fi, TV, heating, dryer and more, just like a hotel.
10. Cozy Private Loft Apt with Balcony
For people that love an apartment filled with amenities and fun stuff – this is the best choice. Aside from the perfect maintenance, this small apartment offers a perfect relaxing stay. You can chill at the balcony with a beautiful view and use the free Wi-Fi, or get out and enjoy Seattle as the building is on the borderline of the Capitol Hill neighborhood.

Rachel, the owner, meets the guests personally and tries to do everything she can to keep them happy.
Interested in the best things to do in Seattle? Read further to have the best possible experience.