Aside from being a business, economic, and cultural center of South Florida, Miami is a major tourist destination for people from all around the planet. Millions of tourists go each year and, as a result, stay in some of the most in-demand airbnbs in Miami. They enjoy the beaches, the fun, and also the famous southern food filled with exotic influence from the Latino and Haitian immigrants living in the area.
If you're about to visit Miami and are looking for a house, then take a look at some of the most in-demand Airbnbs in Miami!
Before we go into the details, let's learn something new about Miami!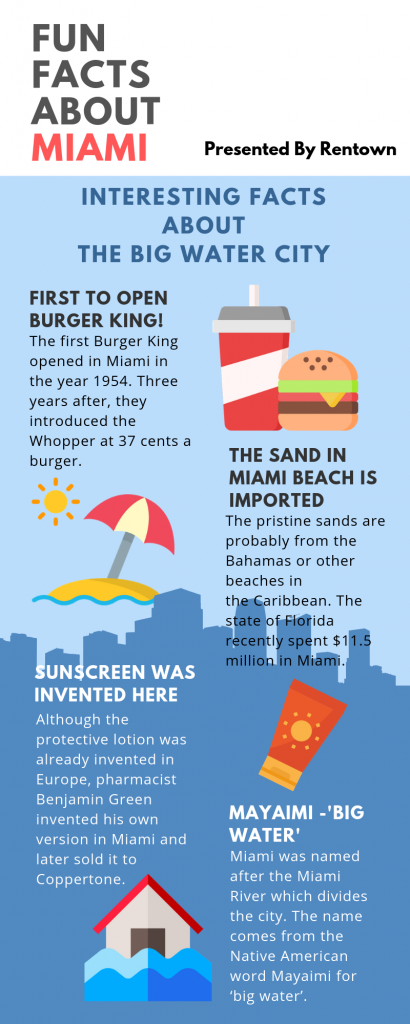 1. Cozy and charming cottage
Paola is the owner of this beautiful cottage in Biscayne Park. Also, she's a superhost, so you know she keeps the place in perfect condition. The cottage is placed behind her house but it has a separate entrance. Being close to you, she is always available for everything you might need in this cottage, one of the most in-demand Airbnbs in Miami.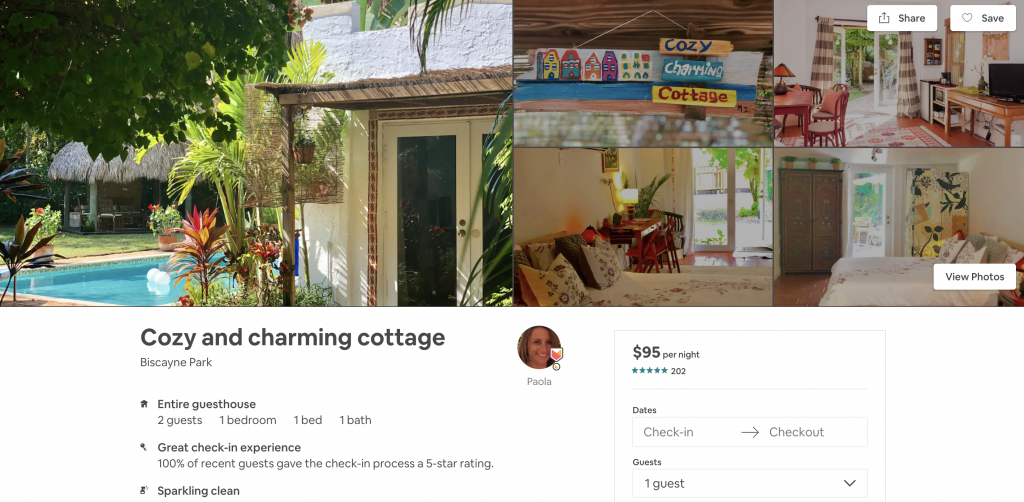 Being located in the northern parts of Miami, the only problem is reaching the city center. It's a 15-20 minutes drive to Downtown Miami. However, within the cottage premises, there's a pool and a beautiful green yard that kids will love.
2. Treehouse Canopy Room: Permaculture Farm
This is the ultimate throwback to childhood! For couples that want to relive their past, this treehouse room is the perfect place to stay. This room has all of the essentials you'll need, including parking and a kitchen!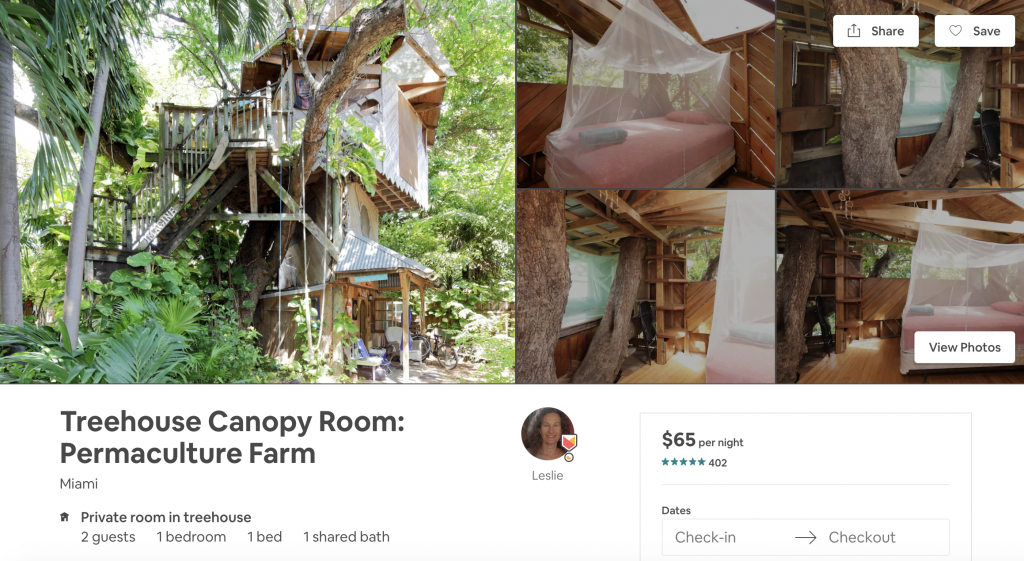 This superhost, Leslie, will work hard to make sure you enjoy your stay among the trees in Little Haiti.
3. Gated Mansion paradise
Located in North Miami Beach, this mansion paradise sits on one acre of land. In it, there's almost nothing that you'll be missing during your stay. There are 5 bedrooms, 10 beds, and 4 bathrooms, so it's perfect for large groups. Inside the premises, there's parking for a lot of cars, a pool, garden, mini soccer field, basketball court, barbeque, billiards, fireplace, cinema, and all the basic amenities needed for a perfect stay.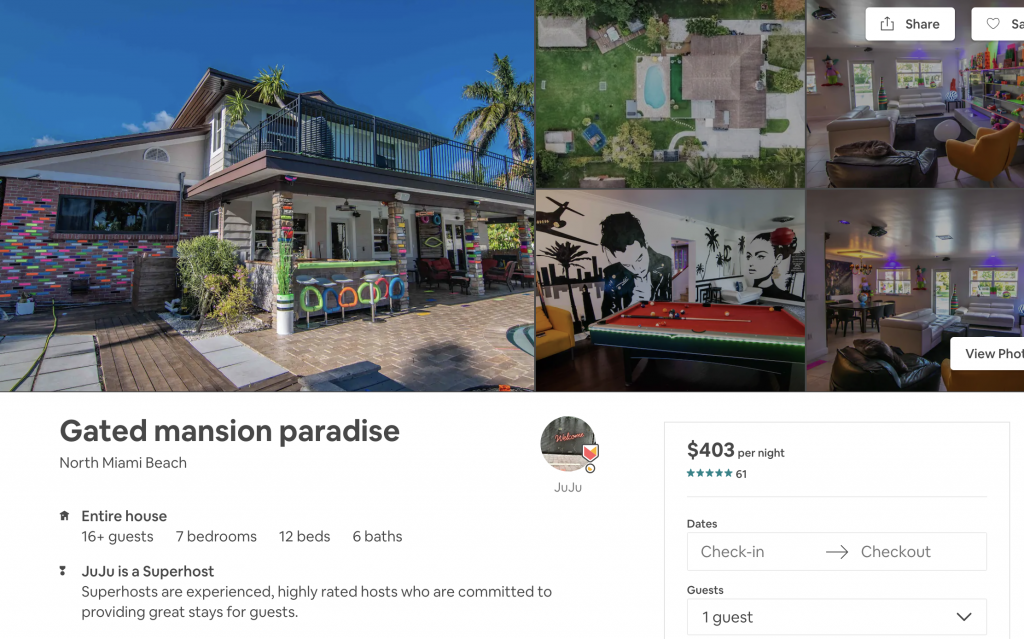 The place is kept spotless and the only downside for some might be the location – North Miami Beach in a residential area. This is a little far away from Downtown and main happenings, but it's just a 20-minute car ride.
4. Studio with two queen beds, 3-minute walk to beach
A beautiful apartment studio in Miami Beach is what Alexa, the owner, is offering to her guests. The interior of the place is made in a modern style and you'll certainly feel like a part of Miami where everything sparkles with elegance.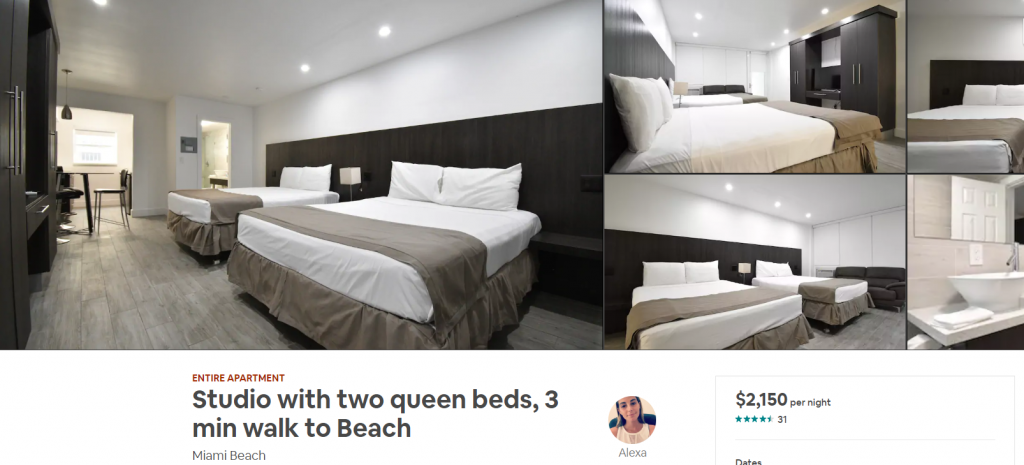 The capacity is 4 guests, which means it's perfect for a family that loves a good beach vacation. The sea is very close to the building and the view from the studio proves it. There's a beautiful view of the area where you can enjoy a coffee while you rest in one of the most in-demand Airbnbs in Miami.
5. Amazing Vacation Paradise Suite
This might be the perfect getaway place for seniors that love to mingle with the youngsters. It's located in the historic Art Deco district and it features an outdoor pool where other residents like to hang out too. The suite is on the first floor which means no stairs. The yard is surrounded with flowers and there are tables by the pool for playing cards, domino, or something similar. Also, a separate barbeque area is open for guests to enjoy themselves.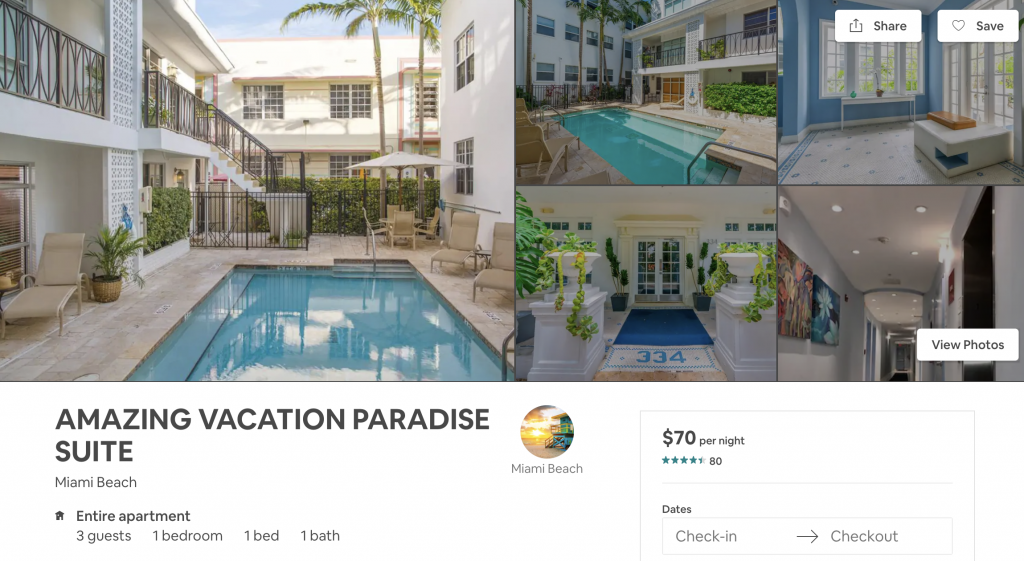 The inside is a mix of modern and traditional. It is completely equipped with all the amenities needed for a pleasant stay.
6. 3 Blocks from Beach
A Miami Beach room for a maximum of 2 people with has a shared bathroom. Might sound like something you wouldn't take, but this place is amazing. It's completely furnished with new pieces, and you can prepare food without a problem as there is a fully equipped kitchen.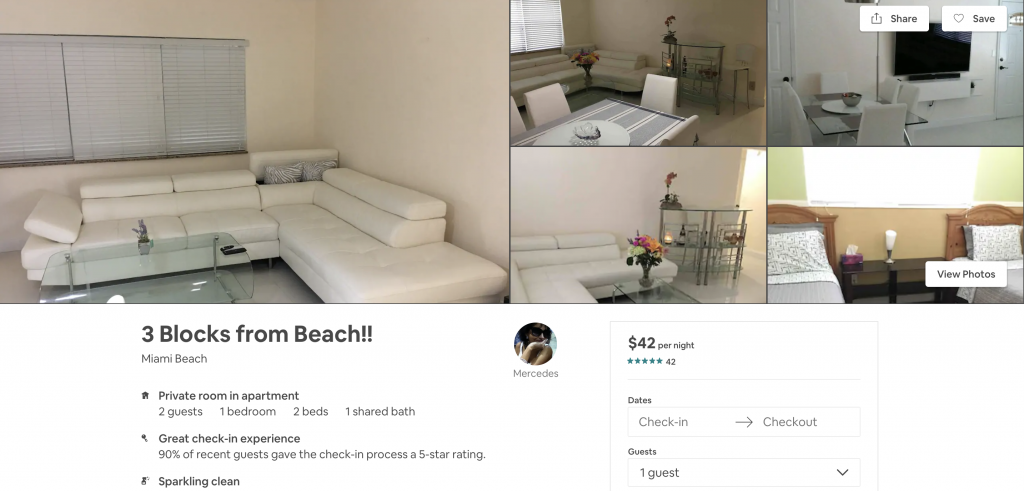 The best part is that it is very close to the beach. In the room, there are amenities that will be helpful for your beach days, like an umbrella and beach towels. The host, Mercedes, is also very friendly and helpful.
7. Luxury 5 Star Condo@47th Floor-W Miami-Free Spa & Gym!
How about this entire condo inside the same building as the W Hotel in Brickell? This entire apartment has 1 bedroom, 2 beds, and is suitable for up to 4 people. The interior is a mix of traditional and modern and offers everything for a good stay. Families, couples, and business travelers. Everyone loves it!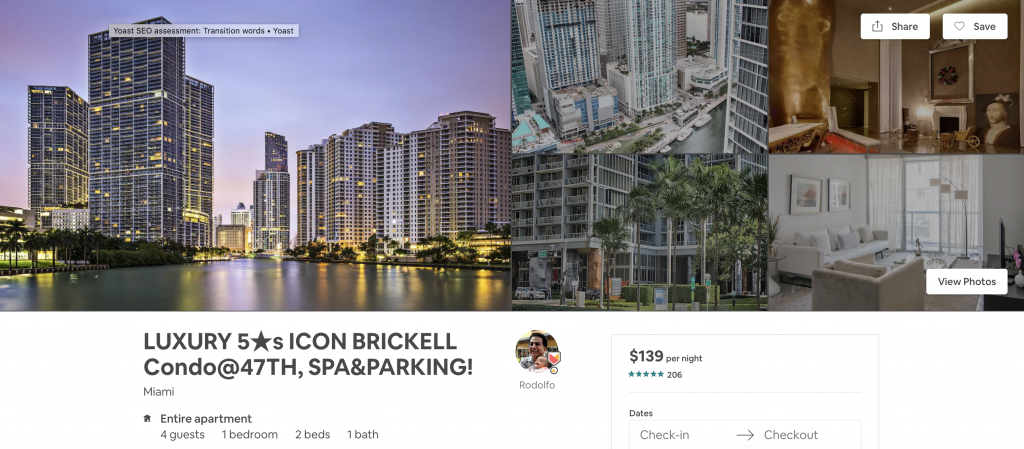 There are a spa and a gym inside in the building which you're free to use, and from the apartment, you'll have some of the most beautiful views ever. Amazing sunsets and some of the best sunrises too.
8. Oceanfront 14th Floor Brand New Beachfront Flat
Fabulous modern condominium in Miami Beach that's completely equipped with modern amenities and furniture. The place is like it's taken out a magazine. The best part: it's right next to the beach with a 360-degree view of the area and some amazing sea views. The view alone is enough to make it one of the most in-demand Airbnbs in Miami!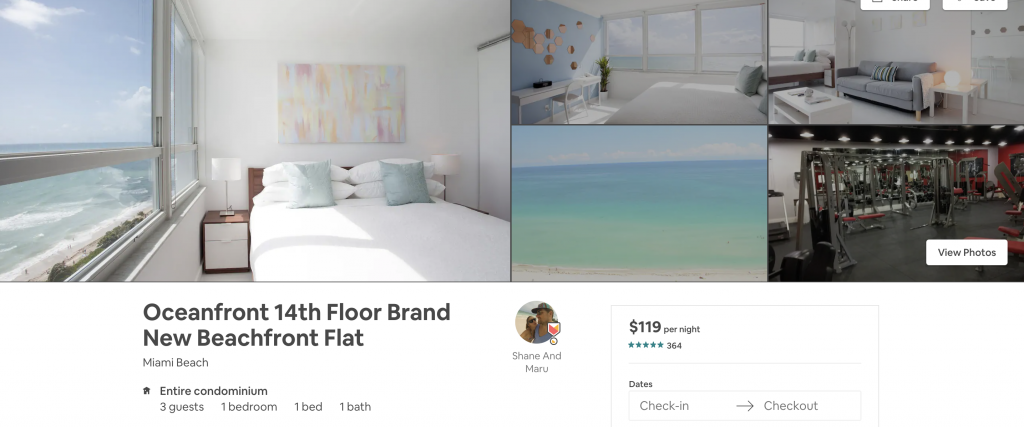 There is a gym and a tennis court on the premises as well as all of the amenities needed for a perfect stay. WI-FI, TV with 500 channels, kitchen, king size bed, bath, and is best for couples or families with a child.
9. Frida's Casita Azul in Sunny Miami
A small cottage in a rustic style that can accommodate 2 people – this is the best description for Frida's casita. It's just 5 minutes from the popular Wynwood neighborhood and is also close to Downtown Miami.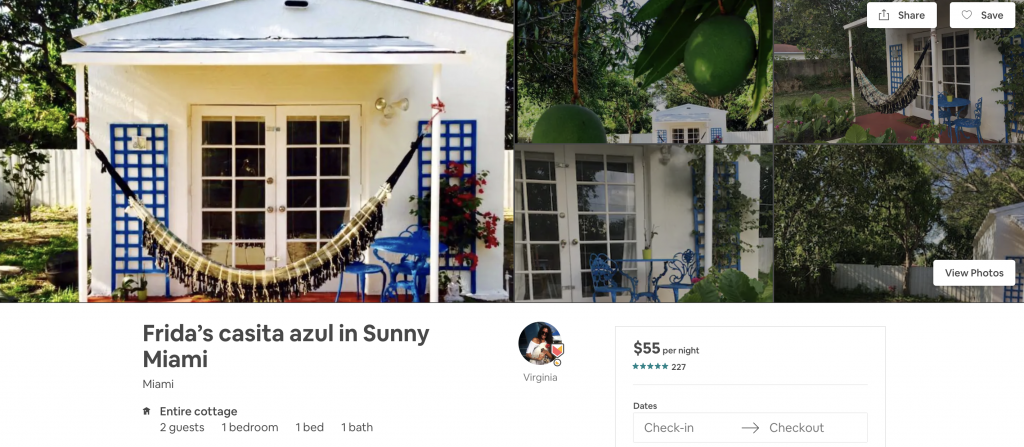 The cottage has a TV with Netflix, Wi-Fi, Air Conditioning, washer, dryer, and other amenities, so it's good for a  longer stay too. There's a big yard that can be used as a place to get your tan right before you hit some of the Wynwood parties.
10. Bungalow 443
This place is outstanding for couples. It has one bed and one bath, and it's kept spotless by its owner Michael. Everything inside and outside in the yard is detailed to perfection. It seems like the owner takes care of the place like it is his own child. Easy enough to see why it's one of the most in-demand Airbnbs in Miami.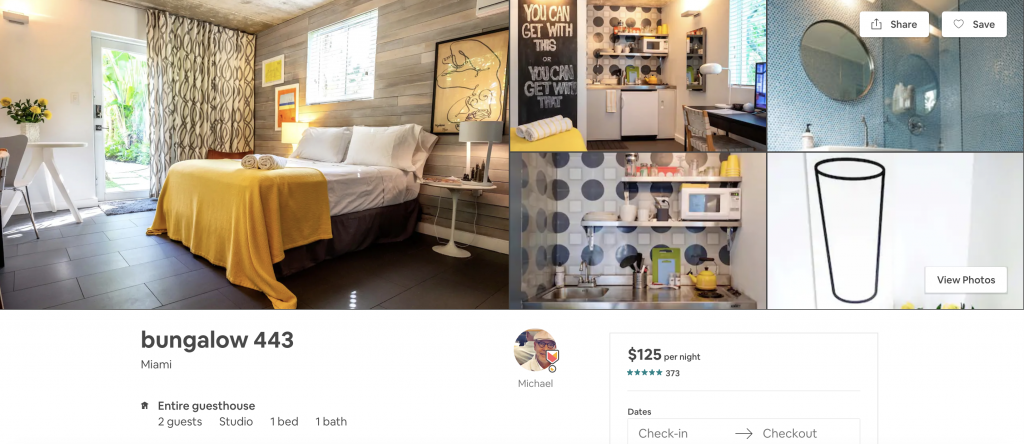 There is an outside pool and a green yard that looks like a part of a fairytale. The interior is a story of its own. Every room is made with special details to look cool and unique. Bungalow 443 is a paradise in Miami.