New York City and Airbnb are having a legal fight over some issues, but that's not stopping people from around the globe to visit the "Capital of the World".
Airbnb apartments are still popular in New York. There are thousands of places to choose from in the city where more than 20 million people live. In this article, we're going to present some of the best Airbnb. Follow up and see:
Prices are NOT quoted in USD
Before we go into the details, let's learn something new about New York!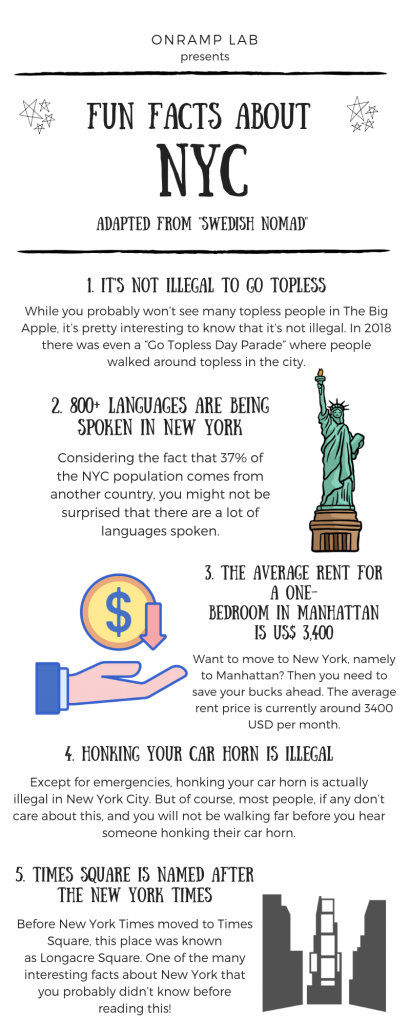 1. Best Location in Manhattan Studio
Knowing how little space there is in Manhattan, there's real luck finding a studio to stay in. This particular one, owned by the superhost Regina Kira, is in the middle of the happenings. It has everything you need for a longer stay. Kitchen, washing machine, dryer, etc. There's also free Wi-Fi, TV, but the most important is that is close to all the important landmarks.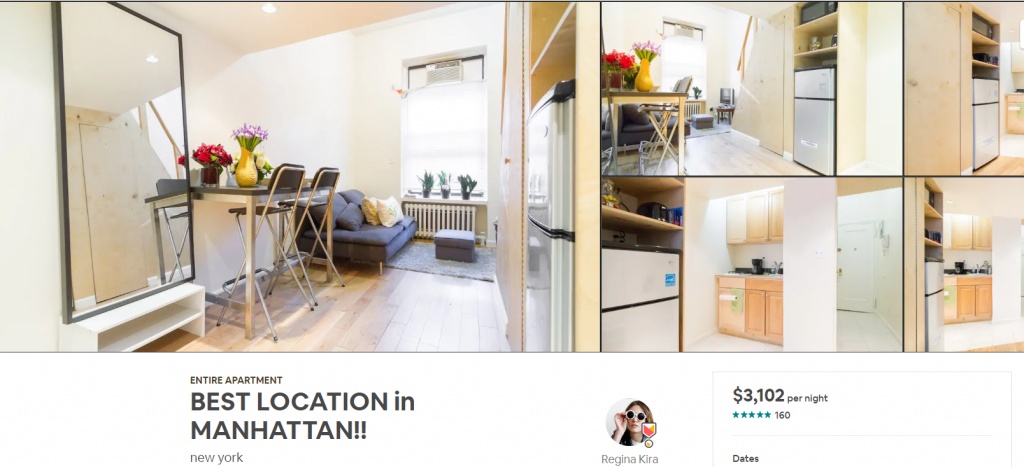 The place is a cute modern studio with a living area, toilet, kitchen, and a gallery where a queen size bed is located. Probably one of the best places in Manhattan.
2. Amazingly Located One Bedroom, Near Central Park
Another Manhattan located place that offers walking to some of the most popular sites in New York. Just a few blocks down Central Park, and 15 minutes from Times Square. If you've been to New York, you know how close 15-minute walking actually is.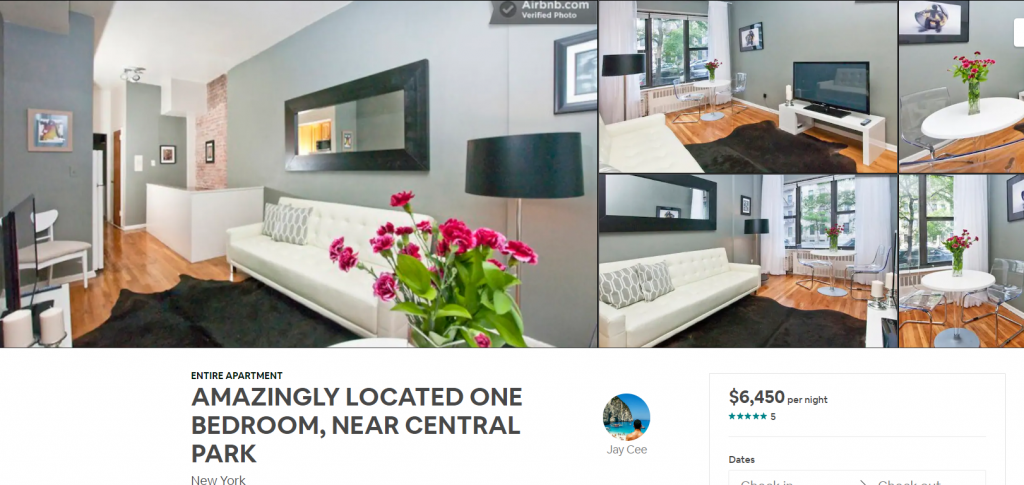 The apartment has one bedroom but is completely equipped with everything you might need during your stay. Wi-Fi, TV, kitchen, coffee machine, microwave, air conditioning, etc. It's a lovely apartment that's best suitable for couples.
3. Super Cool 2BR SoHo / Nolita
A cool neighborhood needs a cool apartment, and that's exactly what this place is – cool. Made to look artistic and with amenities that will keep you satisfied, it's everything that you need during the visit in SoHo. The location is amazing, it's close to the subway with a lot of lines to other parts of the city. It's also close to some of the coolest parts of New York – Little Italy, Chelsea, Tribeca, and is also very close to all the important shopping places if you're a shopaholic.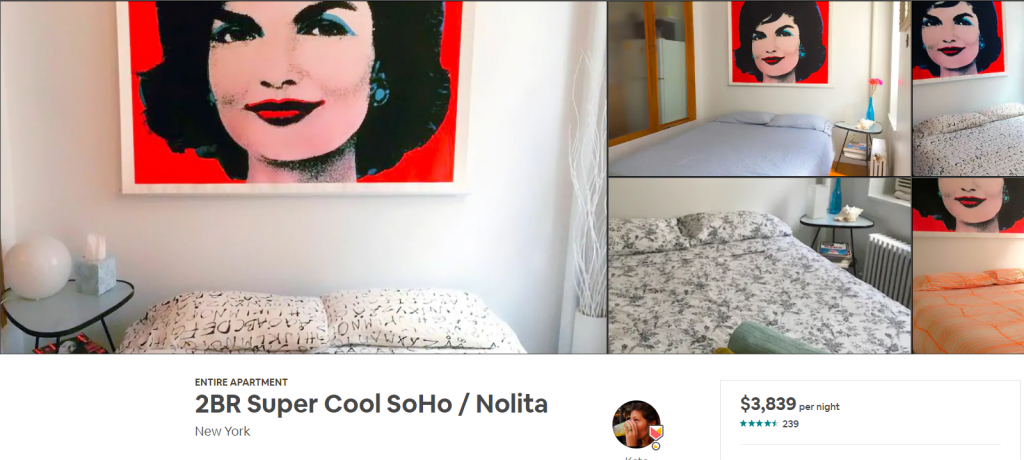 When it comes to space inside, it's a 2 bedroom apartment with plenty of room. It's best for couples or traveling friends. It has TV, Wi-FI, and many other important amenities for a pleasant stay.
4. Clean Room, Central Location in Manhattan
If you're looking for a sparkling clean room that's located in the middle of Manhattan, this is the place for you. The owner, Tim, is a superhost and keeps the place spotless. The location is between  Midtown and Downtown, so be sure everything will be close enough. The rooftop has a view over the East Village and the Lower East Side.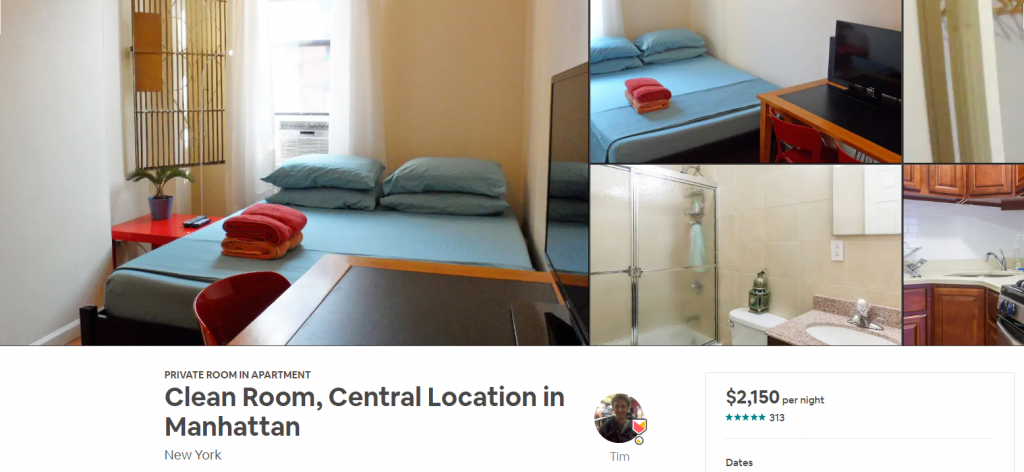 The room has one queen size bed, TV, Wi-FI, heating, and it also offers free off-premises parking which is very important if you're driving.
5. Great Location in Chelsea!
Chelsea is one of the best neighborhoods in all of New York. This apartment is in the middle of Chelsea and is great for anyone who likes to experience how it is to live like a local. It is actually a private room in an apartment with an interior made with a beautiful taste. Pictures on the wall and choice of furniture will really make you feel like home.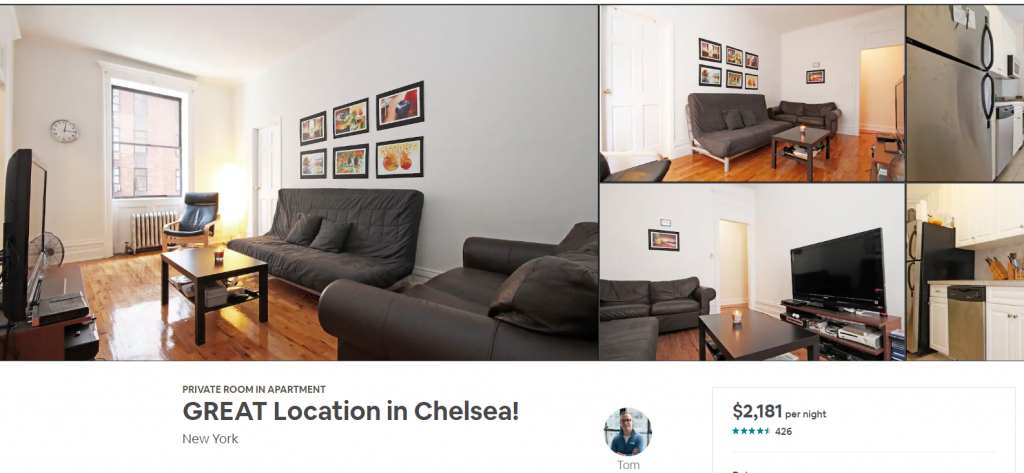 The owner offers free parking on the street or paid parking off the premises. Also the standard amenities, like Wi-Fi, TV, air-conditioning and similar.
6. Gorgeous 1 BDR Prime Hell's Kitchen
If you're about to be in New York for the New Year's Eve and you need an apartment close to Times Square, this is the place for you. A 10-minute walk from the apartment to Times Square is exactly what you need. On top of everything, when the party is over, you can go back to the place and have a good night sleep because the apartment is located in the rear part of a building, which makes it quiet and peaceful.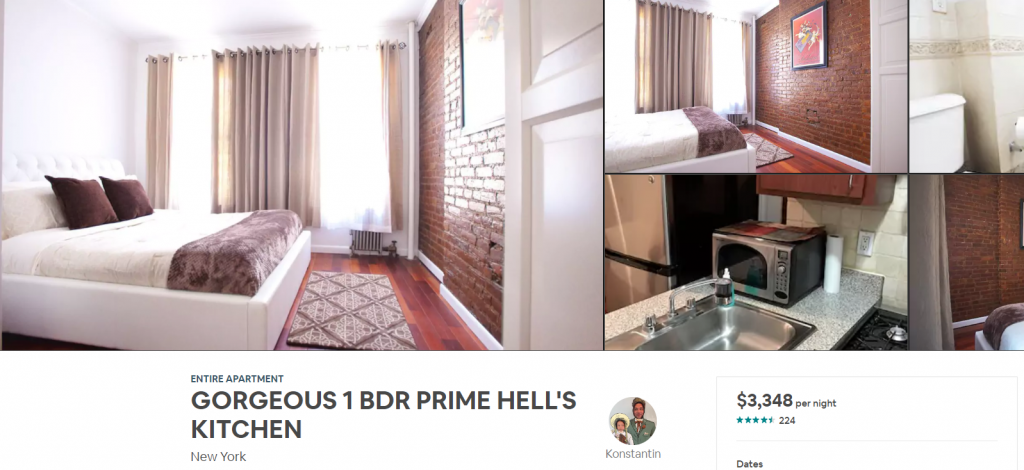 The interior and amenities are amazing. There are 2 beds and it's perfect for a family with kids. There's everything you'll need during your stay, but more importantly, you'll really enjoy staying here because the interior is just fabulous, look at the pictures.
7. Magic Manhattan with Rooftop
A very interesting apartment on the Lower East Side. The interior is made with style and you can go to the rooftop for some perfect views over Manhattan. Some parts of the apartment are not in the best condition but the affordable price makes up for this part.

You can enjoy a beautiful large bedroom, TV, free Wi-Fi, fully equipped kitchen, an espresso machine, and an air conditioner.
8. SoHo 2 Bedroom Private Terrace
Patricia is a super host and is offering this condominium with 2 bathrooms, 2 bedrooms, and 3 beds. Her place in SoHo is so popular that it ranks among the best in New York. It's perfectly clean and inside you'll feel like you're in a movie. Pictures on the walls, modern furniture that goes amazingly well with the huge windows overlooking the neighborhood. The best part – a private terrace with amenities for your enjoyment.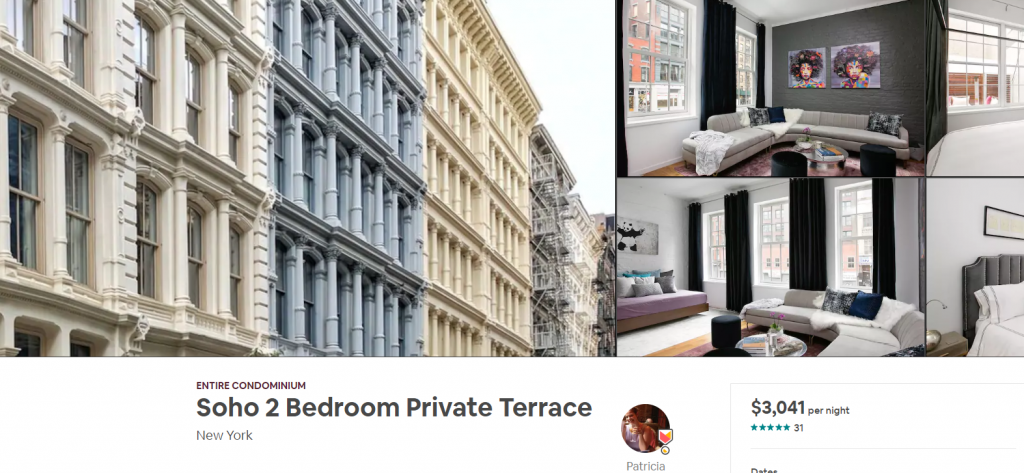 The completely new amenities inside are free for use. An espresso machine, outdoor barbeque, TV, free Wi-Fi, bathtub, washer, dryer, and many more.
9. Tasteful Room in Charming Two Bedroom Apartment
A mix of modern and traditional is what represents this apartment of Yoni, the owner. Located in historic Harlem, it is a quiet and peaceful place. The rating is 5 out of 5 for everything you might be worried about. It's sparkling clean, the owner is very friendly and responsive, and the apartment is in very good condition.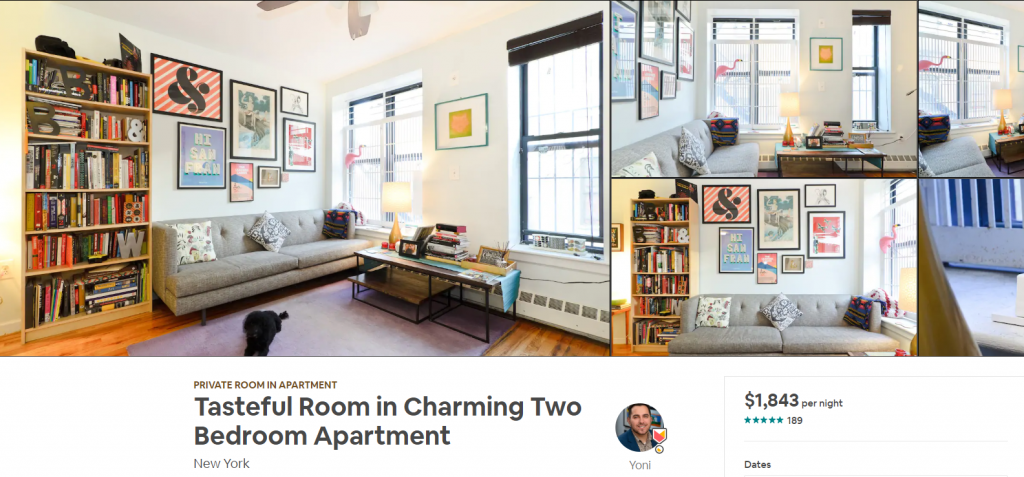 When it comes to the location, it's just a block away from the subway, so it is just 15 minutes away from Downtown.
10. Upscale Sun-Soaked Luxury apartment in Brooklyn
Charlie's Brooklyn apartment is something that will be a great experience for you if you decide to visit. The rating speaks for itself, and the look of the place too. A duplex that's perfectly positioned to be bathed in sun all day long. Completely new amenities and furnished to perfection.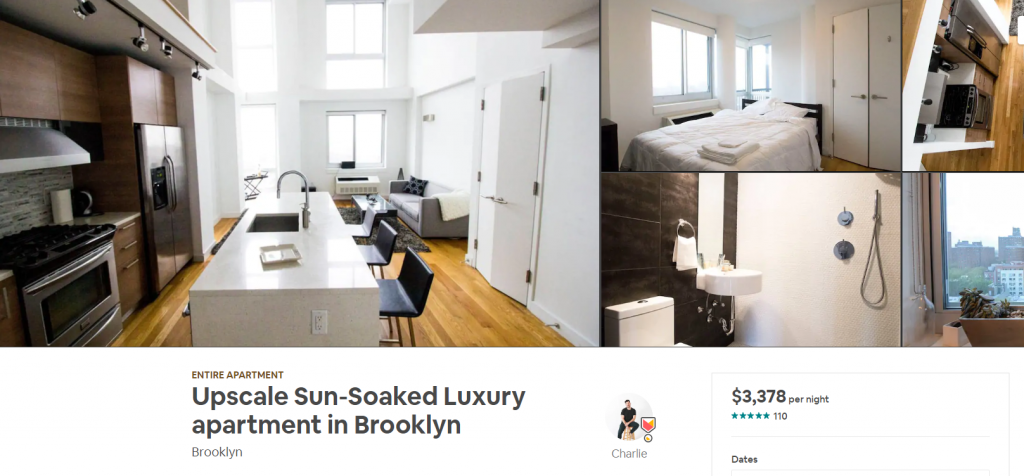 Guests have access to the building facilities, which are amazing. Billiards, Ping-pong table, gym, garden, and a view that is simply breathtaking. Definitely one of the best places in Brooklyn, if not New York.