San Francisco has always been a popular destination for tourists from all around the world. The historic parts of the city and the spirit that flows in it are something that leaves people breathless.
Today, the Metro area of San Francisco is a home to more than 4.7 million people, and San Francisco County itself has almost 900.000 people. If you're about to visit one of the most beautiful cities in the United States, Airbnb is a good choice. Here are 10 of the most desired places in the area.
1. Designer's loft, downtown/SoMa near Moscone center
Filled with books and meeting equipment, the Designer's loft is a perfect place for connecting with people or business partners. The place has just one bedroom meaning two people can spend the night here, but up to 15 people can easily find their place during the day. There are more workspaces that you can use, and also a fully equipped kitchen, bedroom, and bath.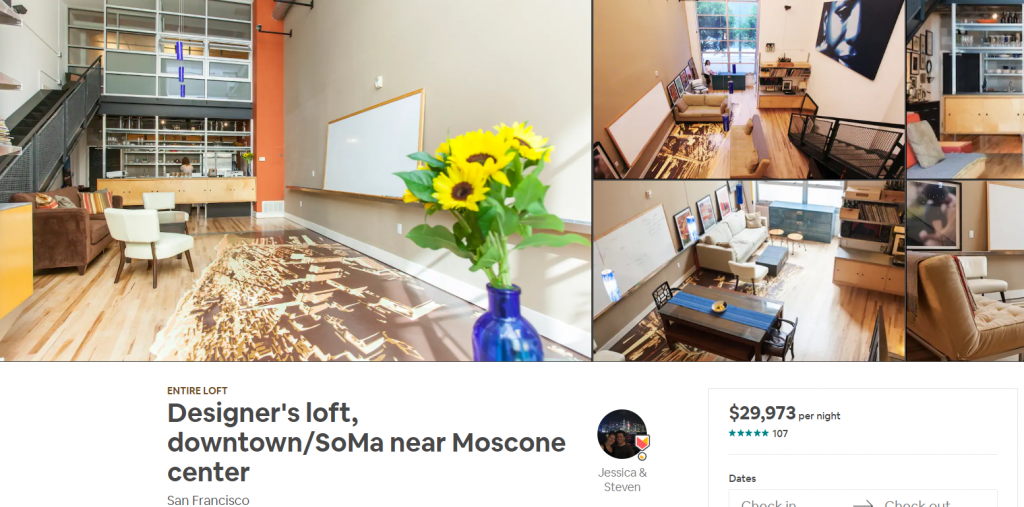 It's located near the Moscone center, which is close to the main happenings in the city and surrounded by hotels where business partners from different parts of the world will most probably stay too.
2. Charming Cole Valley Private Suite
This suite's owner, Stacey, is a super host and she keeps the place sparkling clean. The apartment is on the top floor of a beautiful old building. It has some outstanding views on the area and the inside is made according to the outside look. Classic and somewhat traditional but detailed to perfection by the owner.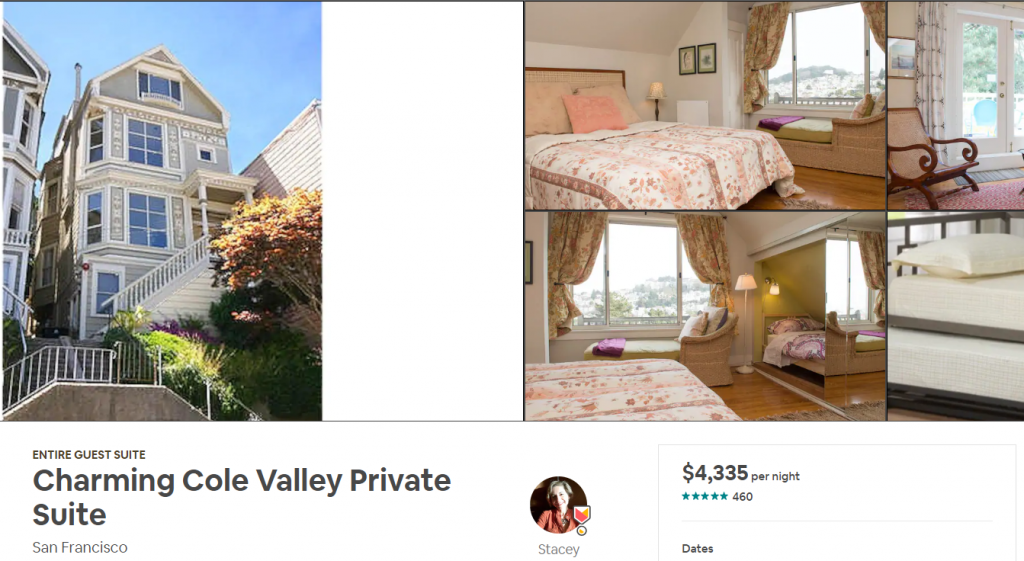 A downside is that there are many stairs to climb so it's not suitable for seniors, but if you're in a good physical condition then it won't be a problem, you should also know that it's located within a walkable distance from the Golden Gate Bridge and other important locations.
3. Most Cheerful in Cole Valley
Located in the Cole Valley, just under the Twin Picks and next to Golden Gate Park with the San Francisco botanical garden, this studio offers a top location and an interesting design. It has 2 beds and can accommodate up to 5 people. The walls are decorated with lovely pictures and all the amenities for a perfect stay are available. It's ideal for a family with children, but also traveling couples.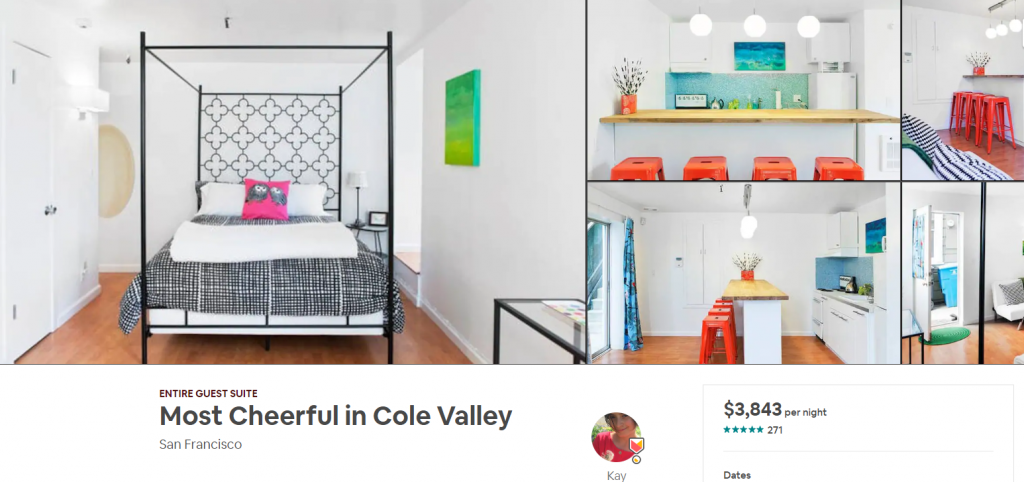 Everything inside is made in a modern style, so when you get back from visiting historic monuments, you can remind yourself how much things have changed over time.
4. Mission Dolores Suite
Mission Dolores neighborhood is in a perfect location, close to most of the interesting parts of San Francisco. The suite is located in a historical building built in 1912, it is completely furnished and a big picture of Golden Gate Bridge hanging on the wall will let you know that the owner, Marc, is a true San Francisco lover and will help you have a great visit of his hometown.
Inside, there's everything needed for a traveling couple. Bedroom, bath, microwave, air-conditioning, Wi-Fi, TV, and other important amenities that you might need.
5. Great Castro location
For those couples that love traditional interiors, this room in Castro district will be perfect. It has one bedroom and a shared bath, and it's so well maintained by the owner, Elmer, you won't find a bad spot anywhere. There's a kitchen, free WI-Fi, cable TV, heater, and other stuff you'll find useful.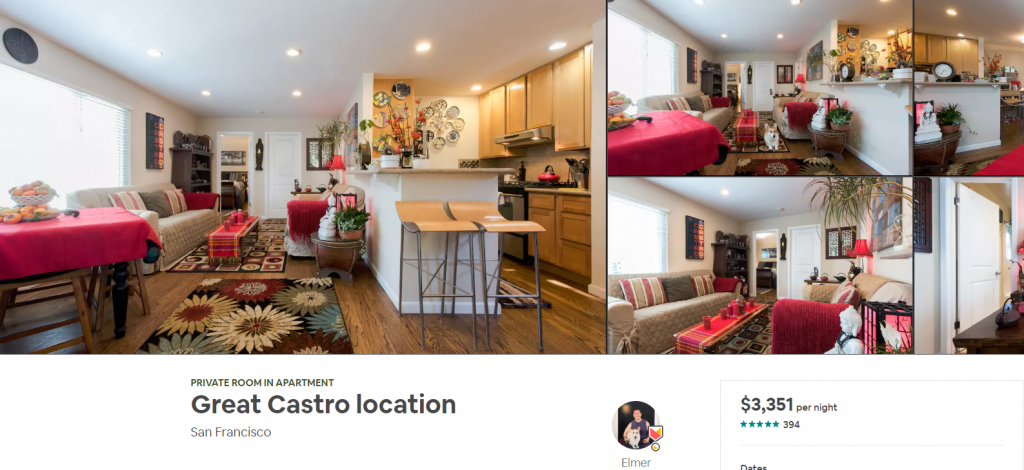 It's located in Castro which is 15 minutes away from Golden Gate Park, and 2 minutes away from a station where different subway lines can take you anywhere in the city.
6. Amazing Location + Space + Luxury
There's something appealing in beautiful yards with beautiful grass. That's exactly what this house has to offer to its guests. Located in the classy part of the city – the Pacific Heights, this house offer accommodation for 6 guests. It has 3 bedrooms and is best for families. Made in a mix of modern and traditional, it will certainly make you feel like home.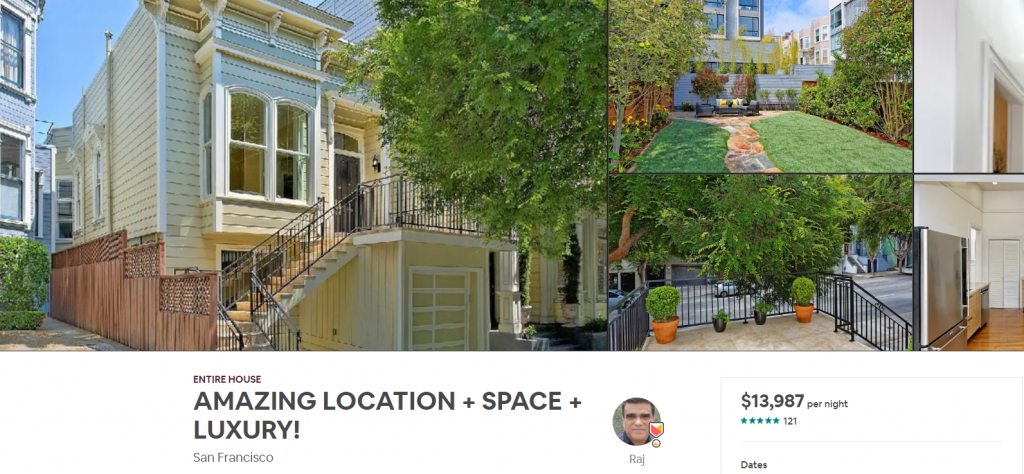 The Golden Gate Bridge is pretty close, and it is perfect for spending a great San Francisco vacation with your family.
7. Ultra Modern Home in Prime Central Location
This beautiful Victorian house is located in central Mission District. The entire house is available for rent, this means 5 bedrooms, 2 bathrooms, and a kitchen for up to 9 people. Jeff, the owner, has a 5 of 5 stars for the way he keeps the place. It's sparkling clean and fully equipped for the best possible experience for your family.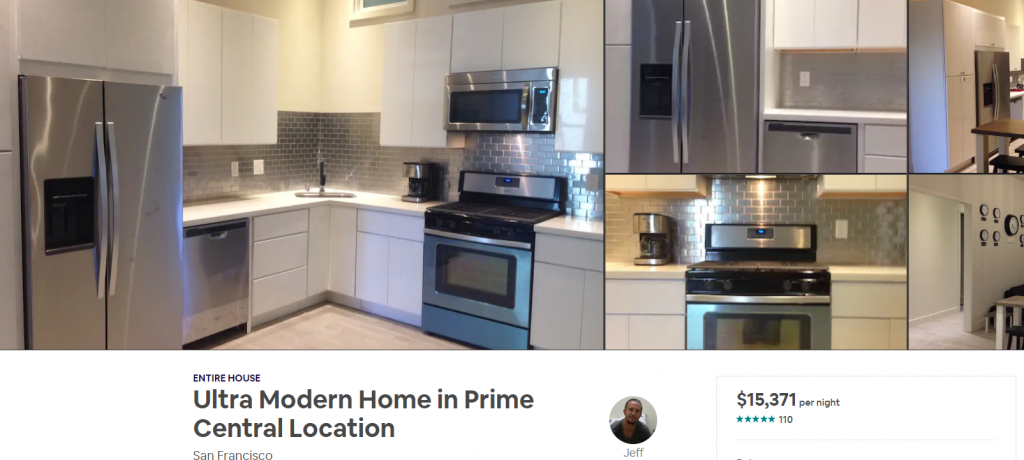 Close to the house is a station with lines to take you anywhere in the city, and around the neighborhood, there are many restaurants offering amazing food. San Francisco is known for good food, so don't miss this opportunity.
8. Cozy Suite Private Bathrm by GGPark
Located between Golden Gate Park and Golden Gate Bridge, in Central Richmond neighborhood, this suite is part of a house with a backyard that's absolutely amazing. It has a separate entrance and a lot of amenities to make you feel good while you're staying here.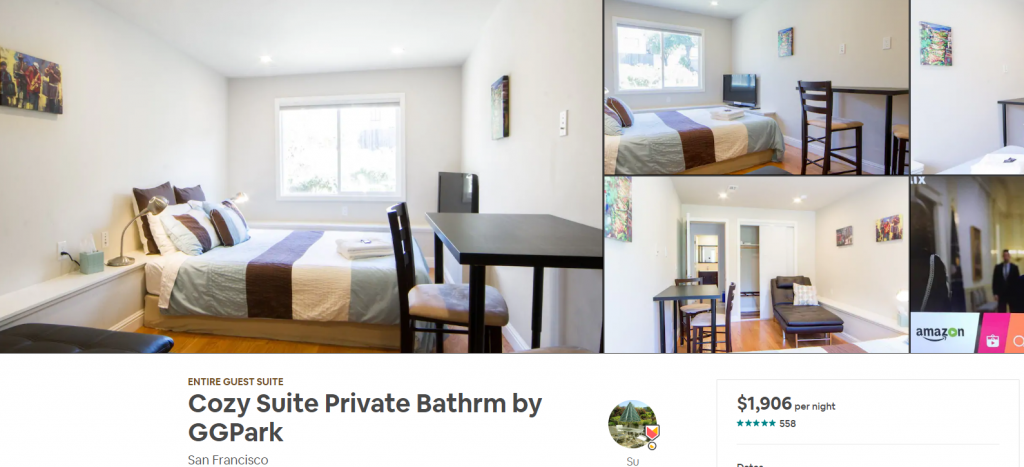 Since there's one bedroom, it's best for a couple or solo travelers. There's a free WI-Fi, TV with Netflix, and a coffee machine.
9. Grand and Cozy 1920's SF Studio
Perfect studio in an old 1920 building that was built in a perfect traditional style to match the building. Located in the south central part of San Francisco, this is a house for people that love to feel glam. Two blocks down is the Bernal park with some amazing views over the San Francisco Bay and the center of the city.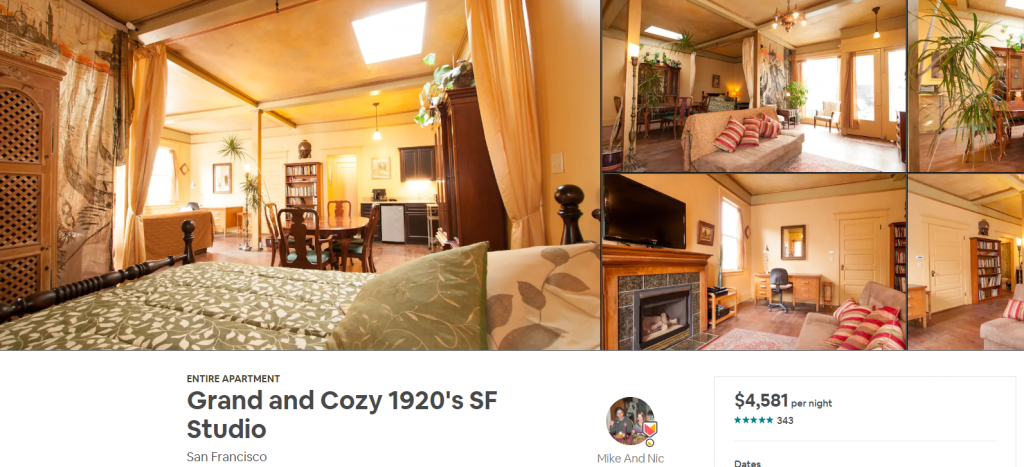 Inside, everything is designed to perfection. Starting with the choice of tables and finishing with the living room that's full of flowers and pictures on the walls.
10. Ensuite in Instagram Dream in the Clouds, 270°View
Right next to the Twitter HQ, close to the City Hall, and the Asian Art Museum, this apartment is located centrally in Downtown San Francisco. It is a 2 bedroom suite with an amazing view of the San Francisco Bay area. The interior is in a – as the owner Jane says – Scandinavian hygge. She managed to catch and maintain this look so her guests are always satisfied.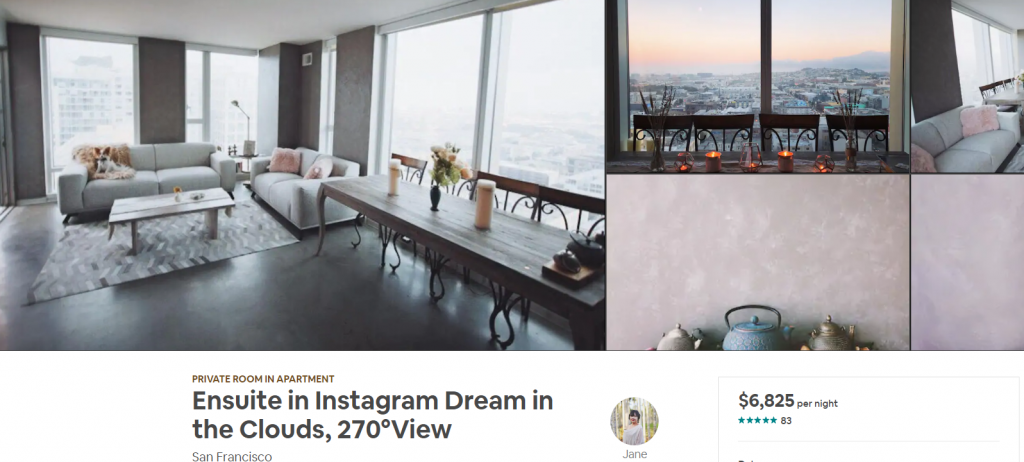 Aside from the perfect city location, within the premises, there's a gym, outdoor barbeque, balcony, and also the standard amenities for a normal stay. It is one of the best places in the city center.